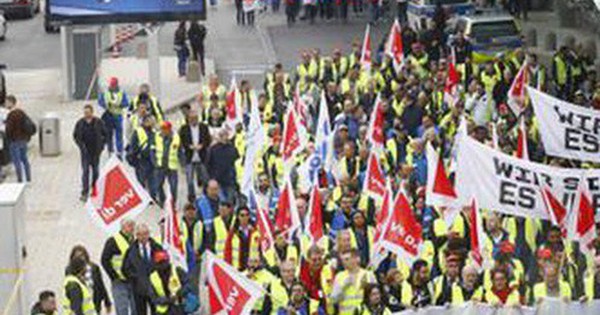 [ad_1]
On January 14, Vietnam Airlines will inform passengers about flights between Vietnam and Germany and connect other trips to destinations via Frankfurt Airport.
Verdi Labor Union, one of the largest trade unions in Germany, said it would be strike large at Frankfurt Airport from 2 January to 20:00 local time (ie 8:00 to 15-1 to 2 am to 16-1 Vietnamese time). During this time, the airport security staff working on baggage screening units at the T1 and T2 output terminals of Fankfurt Airport will not work.
Strikes will affect Vietnam Airlines flights to and from Frankfurt on 14 and 15 January. Specifically, passengers on VN37 flight 14-1 from Hanoi to Frankfurt will not be able to travel from other destinations to Frankfurt from other airlines as staff at Frankfurt Airport will not be checked and handled. In addition, VN36 flight from Frankfurt to Hanoi on January 15 will delay departure time to avoid the impact of the strike.
In order to assist affected passengers, Vietnam Airlines will implement options such as reimbursement of tickets, deregulation and compensation fees if passengers do not need to proceed, as it affects the operating schedule; Free one-time ticket exchange (except for ticket price differences, taxes and surcharges resulting from change of trip). Ticket refund and change times are made within 7 days after the end of the strike.
Vietnam Airlines recommends that passengers plan to travel between Hanoi, Ho Chi Minh, and Frankfurt, or to communicate regularly via Frankfurt via the Internet at www.vietnamairlines.com, on the official Facebook site. www.facebook.com/VietnamAirlines, contact the Vietnamese airline ticket offices in the country or call center: 1900 1100 (call in Vietnam) or +84 24 38320 320 (call from abroad).
Employees
[ad_2]
Source link