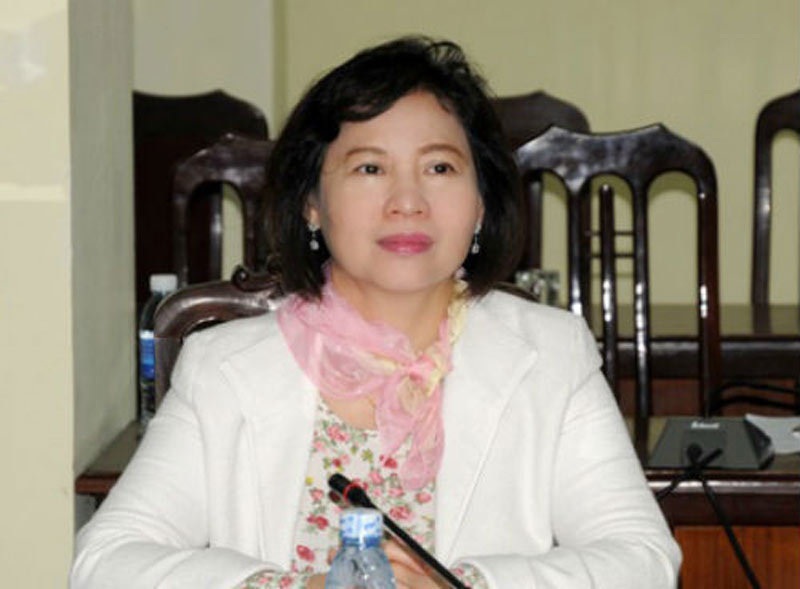 The reason for the fall in net profit after tax by 14% compared to 2017 to 95 billion in VND is due to the 19% increase in the prices of goods sold. In 2014, 2015, 2016 and 2017, DQC, on the other hand, recorded a post-tax profit of 237 billion WND, 207 billion WND, 203 billion WND and 109 billion.
Meanwhile, the Dien Quang rival, Rang Dong Light Bulb (RAL), earned more than $ 204 billion in profits after tax, slightly down by 4.6%, but surpassing 25.7% of its earnings target.
The Rang Dong bulb admits that earnings per share (EPS) are high at 18,000 VND per share. This is why RAL's stock price is high, around VND 82,000 / share, compared to 28,000 / DQC shares in VND.
One of the difficulties posed by 2 Vietnamese bulb companies is that, in the context of companies, overall, costs are rising quite rapidly, there is a need to increase investment in technology and the level of competition in the market.
Despite many improvements and many new and cheaper LED bulbs, both Dien Quang and Rang Dong are under pressure from China.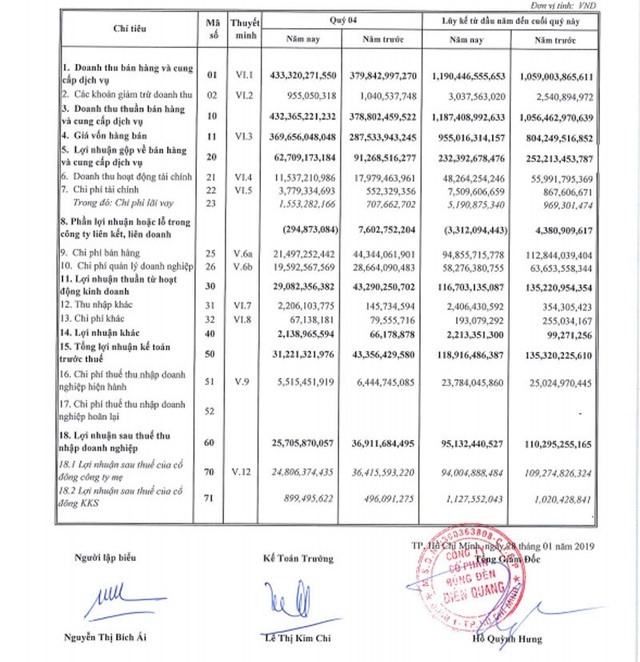 A few years ago, Dien Quang Light Bulb was considered to be a leading company with a large market share and a high return on high revenue from financial activities of Cuban customers. However, these revenues have been exhausted and the DQC still faces difficulties in competing with local market and export markets.
The price of Dien Quang bulbs and DQC stock has fluctuated significantly in the past due to family events, former Deputy Minister of Industry and Trade Ho Thi Kim Thoa.
Until the end of 2018, Ho Thi Kim Thoa, former Deputy Minister of Industry and Trade, was no longer the largest shareholder, selling most of the shares of Dien Quang at a time when the company was no longer the highest.
Mrs Ho Thi Kim Thoa was disciplined and regretted in January 2017 because of irregularities and shortcomings, agreeing to the proposal to receive and appoint Trinh Xuan Thanh against the rules; implementation of principles and rules for making appointments and mobilizing several officials.
The secretariat was later dismissed by Mrs Thoa as a member of the Party Committee of the Ministry of Industry and Trade and asked the Prime Minister to reject the post of Deputy Minister of Industry and Trade for many serious irregularities and shortcomings. Dien Quang Lamp in the smoothing process and incorrectly declaring assets and income. On August 16, 2017, Mrs Thoa officially lost her position as Vice-Minister.
Although no longer a major shareholder of DQC, Thoa's family members still hold a large number of shares in that company.
According to the report, former Deputy Minister Ho Thi Kim Thoa still holds 29.3% of DQC Dien Quang Lamp AS.
Thoa's youngest brother, Ho Quynh Hung, Chairman and CEO of Dien Quang, currently owns more than 2.5 million DQC shares. My mother and Mrs Thoa's mother, Mrs Tran Thi Xuan, hold 3.56%.
Two of Ho Thi Kim Thoa's daughters still hold important positions in Dien Quang Light Bulb and hold a large part of this state-owned company. Ms Nguyen Thai Nga is currently Vice-Chairman of the Board of Directors and Board and holds more than 4.1 million DQC shares (13.2%). Nguyen Thai Quynh Le owns more than 2.2 million DQC shares.
In 2018, the DQC has paid three times a 15% cash dividend each time for 4500 MSDs / share. Meanwhile, a group of shareholders associated with the former Deputy Minister of Industry and Trade Ho Thi Kim Thoa, who owned more than 34% of the shares, received tens of billions of dollars.
In the stock market (stock market), the banking group stood out for outstanding performance, such as: Vietcombank, Techcombank, Vietinbank, Eximbank, MBBank, … Some securities and real estate stocks also moved. positive.
Some securities companies still have a cautious view of the forecasts.
Securities SHS pointed out that the VN-Index can fluctuate and shake as the resistance zone 915-920 (MA50) approaches. SHS maintained its recommendation that investors will continue to limit their purchasing activity during this period and may use the increase in portfolio restructuring target.
According to KIS, market sentiment is still positive, but VN-Index is still in a narrow range, and the effect of Tet still influences investor sentiment. In the short term, the main resistance is MA50, about 918 points, so the risk of correction remains. Investors should be cautious and consider gradually reducing the portfolio in case of bad signals.
Closing the trading session on January 29 VN-Index increased by 3.75 points to 915.93 points; The HNX index increased by 0.06 points to 102.37 points. The Upcom-Index increased by 0.05 points to 54.06 points. Market liquidity reached 150 million units, which is 3.5 trillion US dollars.
Follow H. Tu
VietnamNet