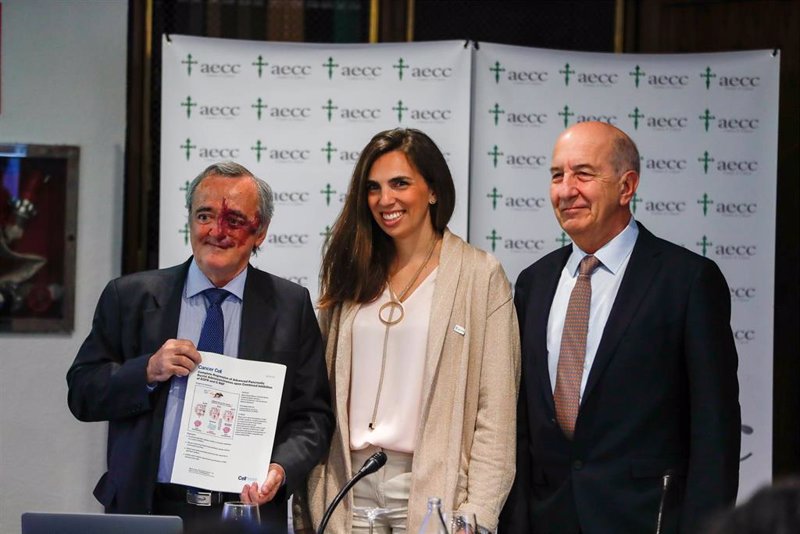 Published on 09/04/2019 12:49:01CET
MADRID, 9 April (EUROPA PRESS) –
Researchers from the National Oncology Research Center (CNIO) Experimental Oncology Group headed by Dr. Mariano Barbacid, an experimental mouse model, has managed to prevent pancreatic ductal adenocarcinoma (ADP), one of the most aggressive forms of cancer. of which the current processing has a higher resistance.
And the treatment of this pancreatic cancer is limited to cases where the tumor is present and can be surgically removed, which is less than 10 percent of the patients. In addition, despite significant advances in personal medicine and immunotherapy, this tumor has a bad prognosis.
In Spain, according to the Cancer Observatory (AECC) of the Spanish Cancer Association, one of the organizations that funded the Barbacid-led project is about 4,000 cases a year, which is 2.2 percent of the tumors. men (2,129 cases) and 2.7 percent of women (1750).
This frequency can be considered as average (global adjusted in 2002: 6.6 new cases / 100,000 inhabitants per year for men and 3.9 for women), although in the 1950s there was a very significant increase that continues with figures revealing these high mortality of the disease.
However, despite these data, the head of the Oncology Service at the Ramón y Cajal Hospital in Madonas and Alfredo Carrato, Director of the Health Research Institute (IRYCIS) at Ramón y Cajal, regrets that only two percent of the study is for pancreatic cancer, which he considers to be "disproportionate", even more so if we consider that 95 percent of patients die.
In addition, although pancreatic cancer accounts for 2.2% of all new cancers, it is already the third cause of death, just behind lung and colon cancer, above mortality.
Breast Cancer In fact, by 2030, in addition to colon cancer, ADP will become the second leading cause of death.
"We face a tumor that causes more death in Europe, up to four times more often than breast cancer, so we are faced with a serious health emergency that needs to be invested in research to get the foundation," said Dr Carrato.
However, although the morbidity and mortality rates are very high, knowledge of ADPs has increased in recent years both exponentially and at the cellular and molecular level. In fact, it is known that in 95% of cases the induction mutation occurs in the KRAS oncogene, whose signaling pathways are known, but it is seen that "it is not pharmacologically treatable", so it is not known how to suppress it.
In the light of this scenario, researchers have developed a new generation of genetically modified mouse models over the last five years to assess the therapeutic potential of two targets related to KRAS oncoprotein signaling: the epidermal growth factor receptor. EGFR, its acronym in English) and c-RAF.
After being unable to isolate the EGFR and c-RAF in isolation, the experts decided to analyze whether these targets could have a therapeutic effect if they were resolved at the same time, thus proving for the first time that ADP tumors were detected in half of the mice. high quality not only did not stop growing, as is often the case in most experimental models, but they disappeared completely within a few weeks.
In addition, scientists found that EGFR and c-RAF excretion only resulted in lower toxicity already seen in patients treated with EGFR inhibitors such as gefitinib or afatinib and consist of "easily controlled" dermatitis. For this reason, they tested this treatment with immunodeficient mice using ten patient cancer models, showing that nine of these tumors stopped spreading, if there were no two goals, which are "essential" initial steps to develop in clinical trials.
UNTIL 5-10 YEARS CANNOT BE APPLIED TO THE CLINIC
However, despite these findings, Barbacid has warned that patients currently suffering from this tumor will not be able to benefit from this progress because they have at least five or ten years to apply it. clinical practice because there are no inhibitors capable of blocking c-RAF activity in this type of cancer and, if they were, would be unacceptably toxic.
Now the researcher has reported that a new "Degron Chemistry" technology is being analyzed that would allow the possibility of EGFR inhibition and c-RAF analogue degradation to be considered. in clinical trials with experimental results from EGFR and c-RAF gene removal.
These results, as well as those published a year ago by the Barbacid group and showing a significant therapeutic effect by preventing c-RAF from lung tumors, are taken into consideration by the pharmaceutical industry to develop selective drugs that ultimately allow them to be used against these types of tumors.
Finally, the researcher reported that in the next few years, they would explore other mutations in mice that did not respond to the new therapeutic strategy. "Although this is an important discovery, it is important to clarify that in less than five years, being optimistic, there will be nothing," he said.
In addition to the work of the AECC, funding was also provided to the European Research Council, Ministry of Science, Innovation and Universities, Ligue Contre el Cancer, United States Health Institutes, Ministry of Education and Vocational Education, Foundation. La Caixa and AXA Foundation.