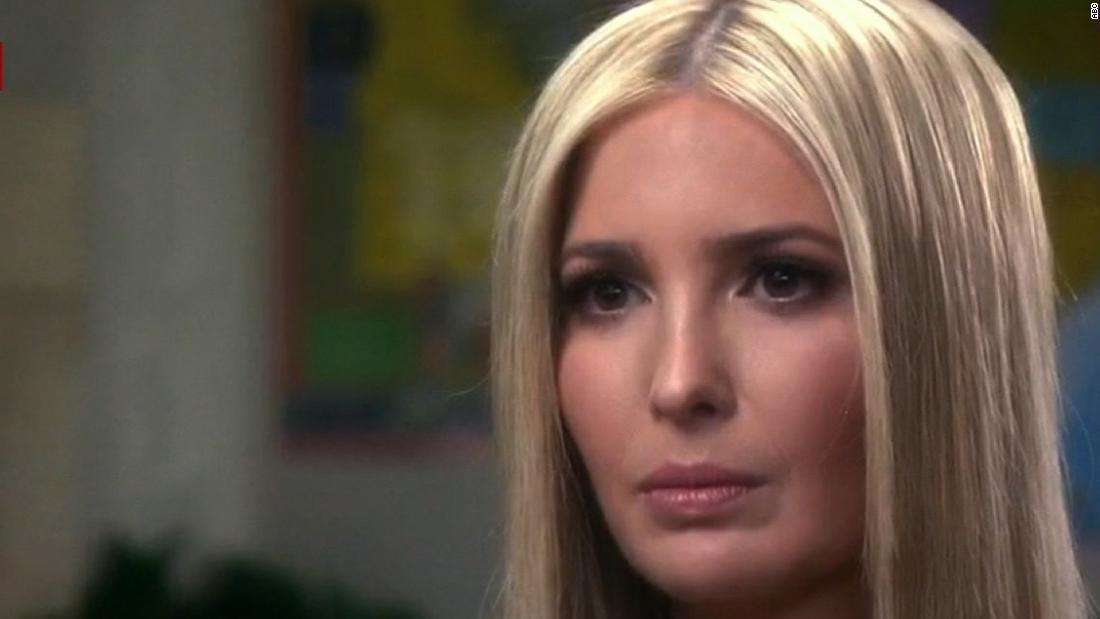 "There really is no equivalency," Trump told ABC's Deborah Roberts in an interview with Good Morning America, adding that her emails were focused on "scheduling and logistics, and managing the fact that I have a home life and a work life. "
She was emphatic that "everything has been preserved" and stored in the White House system.
Trump said there was "no equivalency" to then-Secretary of State Hillary Clinton's use of a private email server, which became a central rallying cry for her father's campaign.
Ivanka Trump noted that there were "mass deletions" of Clinton's emails "after a suit was issued," though FBI's investigation did not find any evidence of clinton and her aides in the matter.
"It's not a connection between the two things," she said.
Trump acknowledged, "People who want to see it as the same (like Hillary Clinton's emails) see it as the same," but said that all of her emails were on the White House server and there was no "intention to circumvent" regulations for White House staff.
"All of my emails are stored and preserved. So there really, there's no deletions, there was no attempt to hide, there's no equivalency to what my father's spoken about," she said.
Asked if the president's rally refrain from "lock her up" applies to her, Trump laughed.
"No," she said.
'Devastating' images on the border
Trump, who has previously expressed disappointment with the family separation at the border, called images of the children fleeing tear gas at the San Ysidro border crossing point "devastating", but largely rejoined her father's feelings on the caravan.
"I think, like any other person with a heart, it's devastating to see the images and see the children put at risk. Running towards the border is heartbreaking, there is no other way to process it. It also makes me angry and make me angry that we have not been able to come together as a nation and change our laws, "she said.
President Trump claimed Monday that the administration "did not" use tear gas for children.
Asked about her father's authorization of the lethal force at the border, Trump initially said that it was not on the table.
"I do not believe that this is what he said, but his primary role as commander in chief is to protect the nation's borders," she said, adding that the lethal force "is not, I think, something that anyone is talking about."
But the President told reporters at Mar-a-Lago last week that he "given the OK" to use lethal force on the border, adding that he "(hopefully) they do not have to."
Pressed for this, his daughter clarified to ABC, "So lethal force, under any circumstance, would be the last resort." But he is the commander in chief of the armed forces of this country, so he should always be able to protect the border … he's not talking about innocent asylum seekers. "
"Nobody wants to see anyone get hurt," she said, but said her father is "not talking about innocent asylum seekers" when it comes to use of force.
The Mueller Investigation
Ivanka Trump expressed confidence during the interview that she and her family have "nothing to be concerned about" as a special adviser Robert Mueller continues his probe of the Russian intervention in the 2016 election.
"I know the facts as they relate to me and my family, and so I have nothing to be concerned about," she said.
Her brother, Donald Trump Jr., and her husband, Jared Kushner, have been questioned by Mueller's investigators. Her father provided written responses to questions earlier this month.
But, like her father, Trump said it's time for the investigation to wrap up.
"I think it should reach its conclusion. I think it's been a long time that this has been ongoing, but I want to be done in a way that no one could question that it has been hurried or rushed. And I think after this long A period of time, we're well beyond that point, so I think it absolutely should reach its conclusion, "she said.
Relationship with her father
Trump also discussed navigating the relationship with her father as a senior staff member in his administration.
Asked if she advises him on his tone, Trump said, "He is my father, and he's my boss." And one of the reasons that I have such a good relationship with him both in personal and professional capacity is because I'm incredibly be honest with him. "
She called her father an "incredible unifier" and denied that he is dividing the nation with his rhetoric.
"I reject that. I think that he is creating a policy that's going to lift all Americans," she said.
Although Trump says she advises her father behind the scenes, she has rarely spoken out on controversial issues or parted with her father publicly, largely keeping her head down and focusing on her portfolio of women's economic empowerment and workforce development. On Tuesday, she traveled to Idaho to tour a school along with Apple's Tim Cook.
Source link