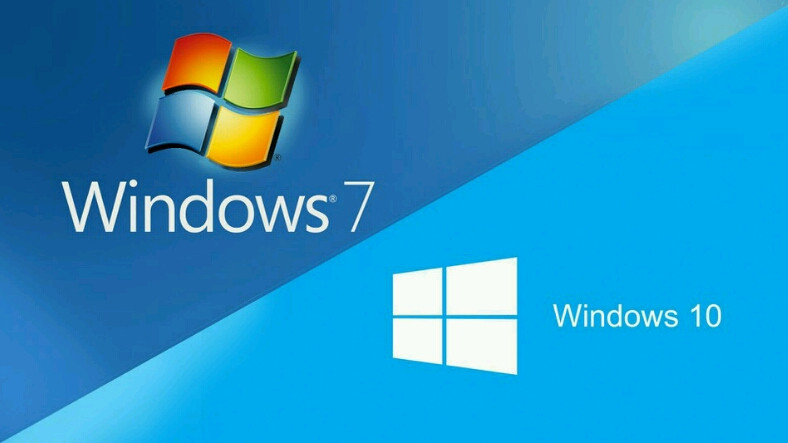 [ad_1]
Windows 10 has been ahead of Windows 7, which has been competing for a long time.
For a long time we all know that competition between Windows 10 and Windows 7 is growing. Obviously, Windows 10 plans to stop winning in December.
Analysts like StatCounter have said that Windows 7 has long reported Windows 7. By the end of December 2018, a research company saying that Windows 7 is a little ahead was wrong.
Windows 10 is more recommended
Unlike StatCounter results, NetMarketShare says Windows 10 is a small limit. Windows 10 40.2% utilization rate is 39.22% to 40.90%; Windows 7 rose from 36.90% to 37.19%. This caused Windows 7 to drop against Windows 10.
In December, Windows 8.1 fell from 4.45% to 4.34%. Analysts were not very hopeful about Windows 8.1, but Windows 10 didn't think it would grow so fast.
According to the latest theories, the popularity of Windows 7 will decrease in the coming years. Microsoft's support for Windows 7 will be the biggest factor behind this fall.
Kaynak : https://betanews.com/2019/02/01/windows-10-consolidates-its-lead-over-windows-7/
$ (Function () {
// facebook window.fbAsyncInit = function () { fb.init ({ appId: & # 39; 1037724072951294 & # 39; xfbml: true, version: v2.5 & # 39; }); };
(function (d, s, id) { var js, fjs = d.getElementsByTagName (s)[0]; and (d.getElementById (id)) {return;} js = d.createElement (s); js.id = id; js.src = "http://connect.facebook.net/en_US/sdk.js"; fjs.parentNode.insertBefore (js, fjs); } (document, script & # 39; facebook-jssdk & # 39;));
$ ("Body"). There ({ click: function () { // facebook saving button ajax And fb.xfbml.p (); } }, ".Facebook-save");
// share scrolling and ($ (& # 39 ;. content-sticky & # 39;).) length> 0) { and ($ (logs) .width ()> = 768) { $ (logs) .on (& # 39; scroll & # 39; function () { and scrollTop = $ (this) .scrollTop (); $ ("Article") each (function () { and (scrollTop> = ($ (it) .find (& # 39 ;. content-body & # 39;). shift (). top - 76)) { $ (This) .find ("Informative") AddClass ("sticky"). (($ (it) .find (& # 39 ;. content-body & # 39;). offset (). top + $ (it) .find (". content structure") height () - ($ .find (& # 39;. Content-sticky & # 39;) height () + 92)) { $ (This) .find ("Informative") RemoveClass ("sticky"). $ (this) .find (& # 39;. content-sticky & # 39;). css (& # 39; bottom & # 39;: & # 39; 0px & # 39; top & # 39; & # 39; & # 39; & # 39;)); } other { $ (This) .find (". Content contagious"). AddClass ("sticky"). CSS ({ "bottom": "original", & # 39; top & # 39; 76px & # 39; }); } } other { $ (this) .find (& # 39;. content-sticky & # 39;). removeClass (& # 39; sticky & # 39;). css (& # 39; bottom & # 39;: & # 39; top & # 39; top & # 39; 0 & # 39;)); } }); }); } }
// share clicks $ ("Body"). There ({ click: function () { var $ this = $ (this) dataShareType = $ this.attr ("data sharing type") dataType = $ this.attr (& # 39; data type & # 39;), dataId = $ this.attr (& # 39; data id & # 39;), dataPostUrl = $ this.attr (& # 39; data-post-url & # 39;), dataTitle = $ this.attr (& # 39; Data Name & # 39;), dataSef = $ this.attr (& # 39; data-sef & # 39;);
switch (dataShareType) { thing & # 39; facebook & # 39 ;: fb.u no ({ method: "part" href: dataSef, }, function (answer) { if (answer &&! response.error_message) { updatehit (); } });
time out;
"Twitter": shareWindow (& # 39; https: //twitter.com/intent/tweet? via = webtekno & text = & # 39; encodeURIComponent (dataTitle) +% E2% 96% B6 & # 39; encodeURIComponent (dataSef )); updatehit (); time out;
case "gplus": shareWindow (& # 39; https: //plus.google.com/share? url = & # 39; encodeURIComponent (dataSef)); updatehit (); time out;
"mail": window.location.href = & # 39; mailto:? topic = & # 39; + encodeURIComponent (dataTitle) + & # 39; & body = & # 39; + encodeURIComponent (dataSef); // updatehit (); time out;
thing & whatsapp & # 39; s: window.location.href = whatsapp: // send? text = & # 39; + encodeURIComponent (dataTitle) +% E2% 96% B6 & # 39; + encodeURIComponent (dataSef); updatehit (); time out; }
shareWindow function (URL) { window.open (url, "_blank", "toolbar = yes, scroll bars = yes, resizable = yes, top = 500, left = 500, width = 400, height = 400"); }
function updateHit () { $ .Ajax ({ type: "POST" URL: dataPostUrl, data: {contentId: dataId, contentType: dataType, shareType: dataShareType}, success: function (data) {
if ($ (& # 39; video showcase & # 39;). length> 0) { var $ container = $ (& # 39; video showcase & # 39;); } other if ($ (article #[data-id="' + dataId + '"]& # 39;) .length> 0) { var $ container = $ (& # 39;[data-id="' + dataId + '"]& # 39;); } other, and ($ (wt-share-item)[data-id="' + dataId + '"]& # 39;) .length> 0) { var $ container = $ (& # 39; wt-share-item[data-id="' + dataId + '"]& # 39;); } other { $ container = zero; }
// var $ container = dataType == video & # 39; $ (& # 39; video showcase & # 39;): $ (& # 39;[data-id="' + dataId + '"]& # 39;);
and ($ container! = null & & $ container.length> 0) { var $ badged = $ container.find (& # 39; wt-share-badge & # 39; + dataShareType);
find $ headerCount = $ (& # 39 ;. content-header & # 39;) to find (& # 39; wt-share-count & # 39;), $ containerCount = $ container.find (& # 39; wt-share-count & # 39;), value = parseInt ($ containerCount.html ()) + 1;
$ container.data (& # 39; part & # 39; value); //$containercount.html(valu A);
and ($ headerCount.length> 0) { //$headercount.html(valu A); }
and ($ badged.length> 0 && (dataShareType == & # 39; facebook & # 39; || dataShareType == & # 39; twitter & # 39;)) { and ($ badged.hasClass (& # 39; see & # 39;)) { //$badged.html(dat A); } other { //$badged.addclass('is-visible').html(dat A); } } }
} }); } } }, & # 39; .wt-share-button & # 39;) }); [ad_2]
Source link