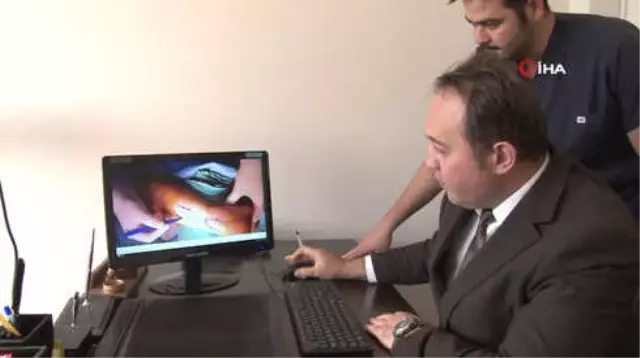 Turkish physician is developing a new method for Achilles tendon surgery
Auxiliary tendon surgery, which lasts 1.5 hours, terminates the operation within 15 minutes
Op Dr. Tansel Mutlu:
"We developed one technique with one needle"
"Safer and healthier than open surgery"
"Double Sewing Closed Operation, Patient Temporarily Receives Health"
KARABUK – Karabük University Hospital of Education and Research Hospital of Orthopedics and Traumatology Op. Dr. The new technique developed by Tansel Mutlu, with closed surgery, reduced the bloodstream tendency to 15 minutes.
Especially after the damage caused by the achilles tendon rupture, known as a football player's injury, he developed an open surgical operation in the world using a closed and one-time needle technique. Tansel Mutlu said that the recovery process is shorter.
She spent four years as an instructor at the Medical School of the University of Caribbean and worked at the Department of Orthopedics and Traumatology at the Caribbean Center for Training and Research. Dr. Tansel Mutlu said that to date they have applied their methods to more than 100 patients.
"We developed our technique"
He said that Achilles tendon is the strongest tendon in the human body. De sudden rupture occurs with minor injuries, known as chronic irritation. We have been developing our method for Achilles tendon for a long time, therefore, we have several problems with open surgery, a wound is created, wounds are not closed and the patient struggles with pain for a long time. about 30 days to prevent patient movement in order to avoid blood transfusion caused by a fatal incident in our lungs and ruining a fatal event. we do not allow an obstacle to move, "he said.
"We do it with one needle in 15 minutes"
Depending on the method used by the surgeon in open surgery, this method lasted 1 to 15 hours with its own developed technique that they were reduced to 15 minutes. The advantage is that we use disposable needles, closed procedures, a set of consumables and specially designed needles, without the need for a doctor's office, we can carry out this operation on condition that does not mean that the operation is simple. The time, 3 weeks after softening the tendon, can reduce the yarn, while in our technique we have developed more than an additional knot to prevent this relaxation. Thanks to that, let the patients move, "he said.
"We have proven biomechanical research"
He also expressed confidence in his technique and demonstrated his technical strength.
"We were doing a biomechanical study at TOBB University. We compared tendons and operations in the medical world with our own technique. We found our technique to be 1.5 to 2 times more robust. We have used this method for more than 100 patients. We have shown that our technique is safe and scientifically researched. I believe this idea will be changed to closed methods. "