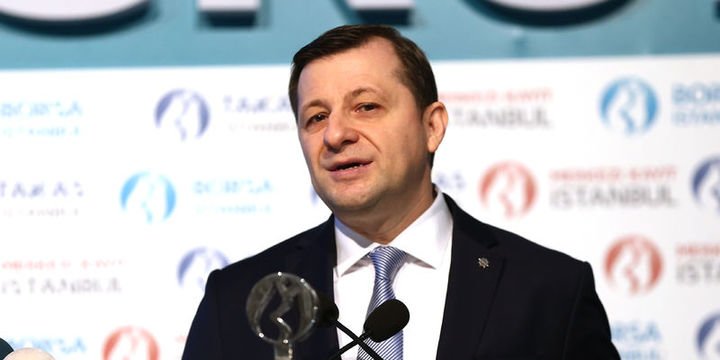 Hüseyin Melih Akosman, Director General of Deniz Yatırım, said that Turkish companies have a significant share of external debt limitation, which means financial protection. Up to $ 200 billion in debt, up to $ 100 billion, will be subject to local hedging. Turkey's need for financial protection more than ever. "He said.
The Akos Bearing, Turkey Capital Markets Association (TSPB) Turkey hosted by the Capital Markets Congress "Treasury Management in the jumbled Markets: Can you manage your financial risk?" The panel provided information on debts to the macroeconomic and Turkish companies.
Foreign exchange, interest and commodities risks, taking into account the risks associated with investment management, Akosman Akosman, the needs of individuals, institutions and world countries in the world, said he needed to worry about borrowing economies.
According to the World Bank, total external debt in 164 countries increased from $ 10.4 trillion in 2000 to $ 34.3 trillion. Short-term debt is what we call taxes below Looking at the 2000 debt, it will reach 1.4 trillion dollars in 2016 to 8.5 trillion dollars. The loans here are huge. Bur
Akosman said that the proportion of short-term debt in the world totaled 13 to 25 percent, and that developing countries were very hard at the time, because of the current decline in monetary constraints.
– Does our real sector continue to use short loans –
Shaking the overall record in the short term rather than the long-term structure of debt financing for Turkey, AKOS, he said:
Iðtir Although the banking sector borrowed short-term loans in 2010, it would have been possible to increase debt after mid-2015. But the real sector is unfortunately not so successful. Our real sector is still continuing with short loans. If we look at the total debt level in August 2018, banks have 55% of banks and 45% of them are in the real sector. This is in fact 55 per cent of the Central Bank of Turkey (CBT), and in particular of the Banking Regulation and Monitoring Agency (BRSA). In turn, these debts are subject to control, but 45% of this debt management method is slightly liberated in the real sector.
According to CBRT data, when looking at foreign currency loans, we see that foreign currency loans of 50 million or more TL are collected in about 2 thousand companies, which we call TL for the first group TC. In fact, these 2 thousand companies account for 83 per cent of total short-term debt. So, in reality, the nominal majority has a nominal value of over 2,000 companies. However, considering the size of the 50 million TL and the six-figure loan, we see that almost 25 000 companies are subject to this situation. Ancak
– yönetmek Risk management is compulsory
Akosman pointed out that the share of Turkish companies in the financial cover is part of foreign debt.
There may be a huge debt. Up to $ 200 billion in debt, up to $ 100 billion, will be subject to local hedging. Of course, this is not an official indicator, we can not find much space, but I think that $ 100 billion goes to internal hedging. If this situation continues, that is, if global interest rates are rising and currencies lose value, it is necessary to manage this risk. In fact, Turkey's need for financial protection is more than ever.
Do we know it as a real industry? Partially yes, partly no
Explaining that the instability of enterprises increased financial protection mechanisms, Akosman recalled that the cost of hedging instruments increased in these periods.
Hüseyin Melih Akosman said that there is no such thing as I've made a hedge; from time to time I hurt company executives.
– "We will try to protect ourselves as soon as the fire appears in the chamber
The financial director (CFO) of the Boyner Group, Türkay Tatar, reminded that he spoke in a group discussing financial risks and it was said that I would like to welcome all the participants to the past. We are talking about our protection against financial risks, but financial risks took place in August, September. "So we will try to protect ourselves when the fire is released again."
Alpogan Sabri Erdoğan, assistant director-general responsible for the development of Borsa İstanbul, announced that huge amounts of resources had to be found when the exchange rate was rising and this situation would increase external borrowing. Artık told Erdogan that now he has to take control of financial risks by concluding a constitution for businesses.
Elif Yener, director of Zorif Energy Finance, said they were happy to try new financial instruments that were created as a company.
– on We see that open currency positions have reached several times capitals –
Yapı Kredi Securities CEO, Vice President Yılmaz Arısoy, said the increase in the exchange rate risk on Borsa İstanbul is increasing among 100 companies.
Aksoy "," Borsa Istanbul 100 companies, considering the ratio of net open positions in capital, we see that actually open currency positions have repeatedly reached the number of many companies in many companies. "He provided information.
Arysoy stated that they are conducting foreign currency exchange contracts against currency risk and offering companies various hedging instruments.
Hakan Ertürk, the New Generation Group for Business, Finance and Intelligence, organized by the event, said Hakan Ertürk, Director General of Financial Sectors and Foreign Exchange, spoke with the Etkinlik New Generation Group on Business, Finance and Smart Money, stating that the priority is to meet global standards for business financing and to speed up work accordingly.
– getir Each disruptive innovation brings about its dark side –
President Faruk Eczacıbaşı Turkish Informatics Foundation, said the block circuit technology will be more widely used in the future, and will increase the use of cryptographic said money in the financial sector.
Explaining that by developing the gene technology in the world, people have the opportunity to choose, over time, features such as the color of their children's eyes to them here. Long-legged long-legged dummies, good runners can be selected. The soldier will also be able to practice at Savaša
If unequal income distribution can not be eliminated, financial manipulation may increase, warns Eczacıbaşi: "Each of the disruptive innovations, defeat innovation brings with it the dark side."
Eczacıbaşı pointed out that a large number of scientific studies were required to determine the economic value of the data in the world. There is a Facebook example. Data value in the world should be determined in one way or another. Er