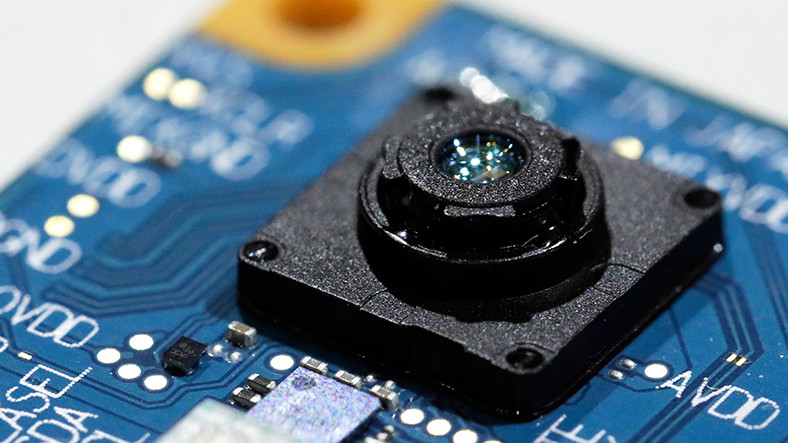 [ad_1]
The Sony laser camera transforms 3D images easily and pleasantly.
It was recently said that iPhone models will use a 3D-based laser camera. Finally, the Japanese technology giant Sony will use this method on their mobile phones.
DepthSense 3D camera laser function seems to be used in Sony's new models. The Xperia smartphone is not included in the introductory video. This shows that only the new models will use the 3D camera.
Sony cameras will use virtual reality
A video that lasts more than two minutes shows not only a better photo session, but also that it can be used in augmented reality or augmented reality games. Of course, it's too early to see how the camera will put the augmented reality.
You can also see additional features in the camera, such as messaging. Even if the video is a little amateur, it clearly explains what Sony wants to do.
You can access 3D camera technology video from below.
Kaynak : https://androidcommunity.com/sony-showcases-what-depthsense-3d-camera-can-do-20190201/
$ (Function () {
// facebook window.fbAsyncInit = function () { fb.init ({ appId: & # 39; 1037724072951294 & # 39; xfbml: true, version: v2.5 & # 39; }); };
(function (d, s, id) { var js, fjs = d.getElementsByTagName (s)[0]; and (d.getElementById (id)) {return;} js = d.createElement (s); js.id = id; js.src = "http://connect.facebook.net/en_US/sdk.js"; fjs.parentNode.insertBefore (js, fjs); } (document, script & # 39; facebook-jssdk & # 39;));
$ ("Body"). There ({ click: function () { // facebook saving button ajax And fb.xfbml.p (); } }, ".Facebook-save");
// share scrolling and ($ (& # 39 ;. content-sticky & # 39;).) length> 0) { and ($ (logs) .width ()> = 768) { $ (logs) .on (& # 39; scroll & # 39; function () { and scrollTop = $ (this) .scrollTop (); $ ("Article") each (function () { and (scrollTop> = ($ (it) .find (& # 39 ;. content-body & # 39;). shift (). top - 76)) { $ (This) .find ("Informative") AddClass ("sticky"). (($ (it) .find (& # 39 ;. content-body & # 39;). offset (). top + $ (it) .find (". content structure") height () - ($ .find (& # 39;. Content-sticky & # 39;) height () + 92)) { $ (This) .find ("Informative") RemoveClass ("sticky"). $ (this) .find (& # 39;. content-sticky & # 39;). css (& # 39; bottom & # 39;: & # 39; 0px & # 39; top & # 39; & # 39; & # 39; & # 39;)); } other { $ (This) .find (". Content contagious"). AddClass ("sticky"). CSS ({ "bottom": "original", & # 39; top & # 39; 76px & # 39; }); } } other { $ (this) .find (& # 39;. content-sticky & # 39;). removeClass (& # 39; sticky & # 39;). css (& # 39; bottom & # 39;: & # 39; top & # 39; top & # 39; 0 & # 39;)); } }); }); } }
// share clicks $ ("Body"). There ({ click: function () { var $ this = $ (this) dataShareType = $ this.attr ("data sharing type") dataType = $ this.attr (& # 39; data type & # 39;), dataId = $ this.attr (& # 39; data id & # 39;), dataPostUrl = $ this.attr (& # 39; data-post-url & # 39;), dataTitle = $ this.attr (& # 39; Data Name & # 39;), dataSef = $ this.attr (& # 39; data-sef & # 39;);
switch (dataShareType) { thing & # 39; facebook & # 39 ;: fb.u no ({ method: "part" href: dataSef, }, function (answer) { if (answer &&! response.error_message) { updatehit (); } });
time out;
"Twitter": shareWindow (& # 39; https: //twitter.com/intent/tweet? via = webtekno & text = & # 39; encodeURIComponent (dataTitle) +% E2% 96% B6 & # 39; encodeURIComponent (dataSef )); updatehit (); time out;
case "gplus": shareWindow (& # 39; https: //plus.google.com/share? url = & # 39; encodeURIComponent (dataSef)); updatehit (); time out;
"mail": window.location.href = & # 39; mailto:? topic = & # 39; + encodeURIComponent (dataTitle) + & # 39; & body = & # 39; + encodeURIComponent (dataSef); // updatehit (); time out;
thing & whatsapp & # 39; s: window.location.href = whatsapp: // send? text = & # 39; + encodeURIComponent (dataTitle) +% E2% 96% B6 & # 39; + encodeURIComponent (dataSef); updatehit (); time out; }
shareWindow function (URL) { window.open (url, "_blank", "toolbar = yes, scroll bars = yes, resizable = yes, top = 500, left = 500, width = 400, height = 400"); }
function updateHit () { $ .Ajax ({ type: "POST" URL: dataPostUrl, data: {contentId: dataId, contentType: dataType, shareType: dataShareType}, success: function (data) {
if ($ (& # 39; video showcase & # 39;). length> 0) { var $ container = $ (& # 39; video showcase & # 39;); } other if ($ (article #[data-id="' + dataId + '"]& # 39;) .length> 0) { var $ container = $ (& # 39;[data-id="' + dataId + '"]& # 39;); } other, and ($ (wt-share-item)[data-id="' + dataId + '"]& # 39;) .length> 0) { var $ container = $ (& # 39; wt-share-item[data-id="' + dataId + '"]& # 39;); } other { $ container = zero; }
// var $ container = dataType == video & # 39; $ (& # 39; video showcase & # 39;): $ (& # 39;[data-id="' + dataId + '"]& # 39;);
and ($ container! = null & & $ container.length> 0) { var $ badged = $ container.find (& # 39; wt-share-badge & # 39; + dataShareType);
find $ headerCount = $ (& # 39 ;. content-header & # 39;) to find (& # 39; wt-share-count & # 39;), $ containerCount = $ container.find (& # 39; wt-share-count & # 39;), value = parseInt ($ containerCount.html ()) + 1;
$ container.data (& # 39; part & # 39; value); //$containercount.html(valu A);
and ($ headerCount.length> 0) { //$headercount.html(valu A); }
and ($ badged.length> 0 && (dataShareType == & # 39; facebook & # 39; || dataShareType == & # 39; twitter & # 39;)) { and ($ badged.hasClass (& # 39; see & # 39;)) { //$badged.html(dat A); } other { //$badged.addclass('is-visible').html(dat A); } } }
} }); } } }, & # 39; .wt-share-button & # 39;) }); [ad_2]
Source link