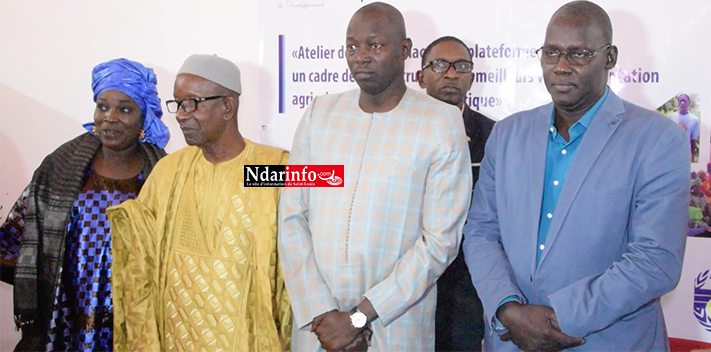 The aim of this multidisciplinary platform is "to create a participatory dynamic between actors in agriculture, producers, technicians, researchers, traders and decision-makers." This will allow these actors to access and use agro-climatic data to better adapt to climate change.
" In Senegal, the Sahelian state, in the face of the dangers of drought, this problem is being challenged because it is primarily an agricultural economy that is heavily dependent on climatic conditions. Any deterioration or adverse climatic situation inevitably affects agricultural production, thus jeopardizing food security Ousmane THIARÉ recalled, referring to the catastrophic effects of climate change on the traditional agricultural production capacity of the Senegalese Delta.
He also expressed his "satisfaction" and "pride" to see the "all categories of development actors" who gather around the platform.
" I welcome the commitment of UFR Agro carriers to this project. I am still convinced that the teachers and researchers of this UFR, known for their commitment to support research and agricultural production programs linked to Senegal's territorial development policy, will provide their scientific expertise to this labor-intensive process of creation Added by UGB Assembly President.
"We have the skills to serve all groups of the population so that they can take into account all the effects associated with these phenomena," said rector THIARÉ.
Professor Seydou Nourou SALL, INNOVACSA Coordinator, welcomed OSIWA's support for project implementation, before pointing out that stakeholders would "jointly develop innovative strategies based on the results of the project, research and endogenous knowledge of agricultural actors."
"The process implemented through this program is" research-action "that takes into account the knowledge and know-how of manufacturers," explains S. SALL.
He went on to say that "the scientific challenge that strengthens the resilience of producer groups to climate change is a significant supply of food".
>>> Reply to the video …
Source link