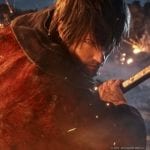 [ad_1]
Yesterday, at the Final Fantasy XIV fan festival, player player Naoki Yoshida won the scene to announce the new "Final Fantasy XIV"Bell"Shadowbringers" "Shadowbringers"Third extension FFXIV, will arrive in mid-2019 and six countries will join forces to fight once and for all against the Garland empire. In the new content, the Light Warrior will become the Dark Warrior.
Among the approved professions is the Blue Mage, which has the ability to master monster or manifestation skills like Shiva and use it later in the battles. Initially, the maximum level will be 50. The new profession will be available upon arrival at update 4.5.
Enlargement will also lead to new raids, humiliations, systems and much more.
Take a look at the Extension and New Occupation Trailer:
[ad_2]
Source link