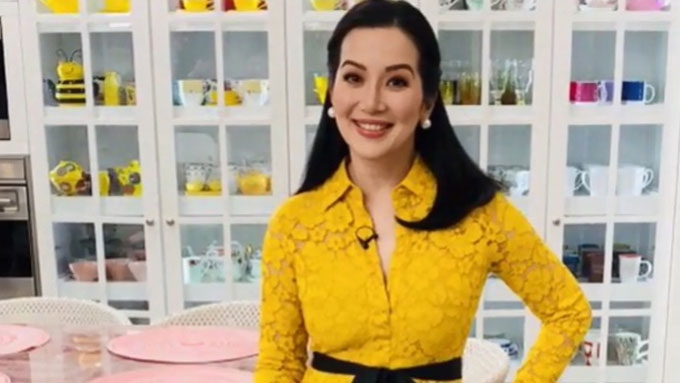 [ad_1]
Kris Aquino revealed that she was asked to look at a series that she describes as "multinational products".
With his Instagram post yesterday, Nov. 7, Kris described the character that she was asked to listen to unknown series.
If pressed, this could be the future project of her Hollywood film Crazy Rich Asians where she played the princess.
Here's Chris's message about her next possible project:
"What could be later, please allow me to be grateful yesterday and evening.
"My American agent sent me a script for multinational production, BUT this time about a unique serial type (I know later if the role is still open because I did not see an email asking me to submit my script reading by October 29th).
"Just ask to listen to the recurrence of a girl who has not been in the Philippines for more than two years on television, and who watches the US series because her favorite relaxation form is extraordinary.
"In a world that no longer needed to be patient, two big Philippine conglomerates made me feel very happy. I have the privilege of working with people who consider me to be my own because they value me as FAMILY.
"Please do not allow it to be" hugo sa love life "- it's just ironic for you sincerely that my company partnerships prove to me that there are unforeseen things and people that are for me because they are ready and excited for long-term consistency and determination. RELATION .
"It is as multifaceted as my life is – I returned to the rear shoots, fascinated me that I wore the creation of gold Carolina Herrera lace at 5 and after 9:00, I was wearing a dress that had a real sentence in color choice (of course because of the dominance of pink) and the silhouette (I like the expression of this semi-circle neck and I insisted on the length of the midi), it is a wish that my favorite Filipino designers made my dresses and some of my inspirational black pre-"capsule" wardrobe is now inspirational pieces that you all have access to with the great value of money shown at this Christmas season.
ADVERTISE – CONTINUE TO READ FROM
"I just LIKE ALL THAT YOU WILL BACK. None of these options would be here for me if it had not been for your unconvincing support and for the prayers of soldiers … I am very grateful if you travel on this trip with my son and me … thank you for inspiration to say that I'm not sorry, THANK YOU, FUTURE. "
In the comments section, Kris responded with friend Boy Abunda using the @phildada handle.
Kris told @phildada to send a message to Boy: "Please tell Boy when he finds out who is producing a series of sabay kings tatalon sa pagki kilig … if I skipped the opportunity to OKAY na the fact that this huge company knew about my existence, I guess I guess I miss you all. "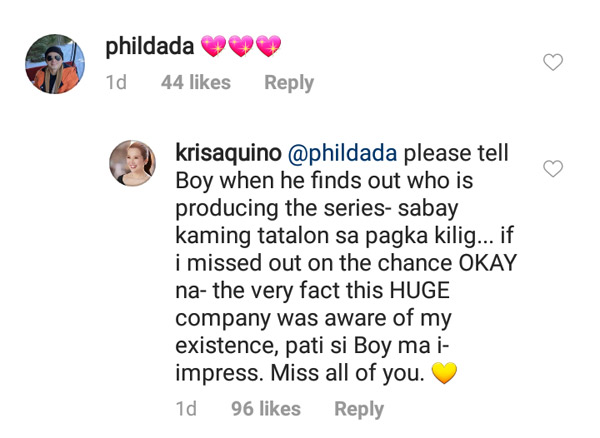 ---
The stories we track
---
/*$(document).ready(function(){ if(getCookieISPR('ISPR_agreed') === true){ $(".ISPR-useragreement").hide(); } });*/
function statusChangeCallback(response) { console.log(response); // The response object is returned with a status field that lets the // app know the current login status of the person. // Full docs on the response object can be found in the documentation // for FB.getLoginStatus(). if (response.status === 'connected') { // Logged into your app and Facebook. fb_API(); } else if (response.status === 'not_authorized') { // The person is logged into Facebook, but not your app. setCookie("__pl", "", -1); setCookie("__cx_update_profile", "", -1); setCookie("__cx_1st_time", "", -1); setCookie("__eid", "", -1); } else { // The person is not logged into Facebook, so we're not sure if // they are logged into this app or not. setCookie("__pl", -1, -99999); setCookie("__cx_update_profile", -1, -99999); setCookie("__cx_1st_time", -1, -99999); setCookie("__eid", -1, -99999); } } function checkLoginState() { FB.getLoginStatus(function(response) { statusChangeCallback(response); }); }
function fb_API() {
FB.api('/me', { fields: "name, first_name, last_name, email, age_range, bio, birthday, picture, link, gender, locale, timezone, updated_time, verified" }, function(response) { if (getCookie("__pl") === "") { var udata = response; $.ajax({ "url": "https://www.pep.ph/services/prepare", "data": response, "dataType": "jsonp", contentType: "application/json", jsonpCallback: "jsonpCallback", beforeSubmit: function() { console.log("Sending..."); }, success: function(response, status) { if (status == "success" || status == 200) { var current = new Date().getFullYear(); var Birthyear = new Date(udata.birthday).getFullYear(); var age = current - Birthyear; var gaUserData = '{"userId": "'+udata.id+'","userProfilesmember-id": "'+udata.id+'","userProfilesgender": "'+udata.gender+'","userProfilesage": "'+age+'","userProfilesbyear": "'+Birthyear+'","site": "pep.ph","userFbProfile":"'+udata.link+'","userName":"'+udata.name+'","avatar":"'+udata.picture.data.url+'","fname":"'+udata.first_name+'"}';
setCookie("gaUserData", gaUserData, 1); setCookie("__pl", udata.name, 30); //setgaUserData(response); $('#fb-login-img').addClass("hidden"); $(".ISPR-useragreement").addClass('hidden'); $('.fb-login-title').addClass("hidden"); $('#fb-logged-in').removeClass("hidden"); $('#fb-logout').removeClass("hidden"); $("#fb-user-pp").attr("src", udata.picture.data.url); $(".fb-user-pp").attr("src", udata.picture.data.url); $(".fb-user-pp").removeClass("hidden"); $('#fb-welcome').text("Welcome, " + udata.name + "!"); console.log(response.message); document.location.reload(); } else if (response.status == "failed") { console.log(response.message); } } }); } else {
$('#fb-login-img').addClass("hidden"); $(".ISPR-useragreement").addClass('hidden'); $('.fb-login-title').addClass("hidden"); $('#fb-logged-in').removeClass("hidden"); $('#fb-logout').removeClass("hidden"); $("#fb-user-pp").attr("src", response.picture.data.url); $(".fb-user-pp").attr("src", response.picture.data.url); $(".fb-user-pp").removeClass("hidden"); $('#fb-welcome').text("Welcome, " + response.name + "!"); }
}); }
function getCookieISPR(cname) { var name = cname + "="; var decodedCookie = decodeURIComponent(document.cookie); var ca = decodedCookie.split(';'); for(var i = 0; i 0 || getCookieISPR('ISPR_agreed') === true){*/ FB.login(function(response) { /*if(getCookieISPR('ISPR_agreed') === null){ setCookie('ISPR_agreed',true,365 * 2); }*/ if (getCookie("__pl") == ""){ if (response.authResponse) { console.log('Welcome! Fetching your information.... '); access_token = response.authResponse.accessToken; //get access token user_id = response.authResponse.userID; //get FB UID
statusChangeCallback(response);
} else { //user hit cancel button console.log('User cancelled login or did not fully authorize.');
} } }, { // return_scopes: true, // auth_type: 'reauthenticate', // auth_nonce: '{random-nonce}', scope: 'email, public_profile, user_birthday' });
/*} else { alert('Please check the user agreement before logging in'); }*/ } function fb_logout(){ FB.logout(function(response) { setCookie("__pl", "", -1); setCookie("__cx_update_profile", "", -1); setCookie("__cx_1st_time", "", -1); setCookie("__eid", "", -1); setCookie("gaUserData", "", -1); $('#fb-logged-in').addClass("hidden"); $('#fb-logout').addClass("hidden"); $('#fb-login-img').removeClass("hidden"); $(".ISPR-useragreement").removeClass('hidden'); $('.fb-login-title').removeClass("hidden"); $(".fb-user-pp").addClass("hidden"); $(".fb-user-pp").attr("src", ""); console.log('User has been logged out.'); document.location.reload(); }); } function setCookie(cname, cvalue, exdays) { var d = new Date(); d.setTime(d.getTime() + (exdays*24*60*60*1000)); var expires = "expires="+d.toUTCString(); document.cookie = cname + "=" + cvalue + "; " + expires + "; path=/; domain=.pep.ph"; } function getCookie(cname) { var name = cname + "="; var ca = document.cookie.split(';'); for(var i=0; i [ad_2]
Source link