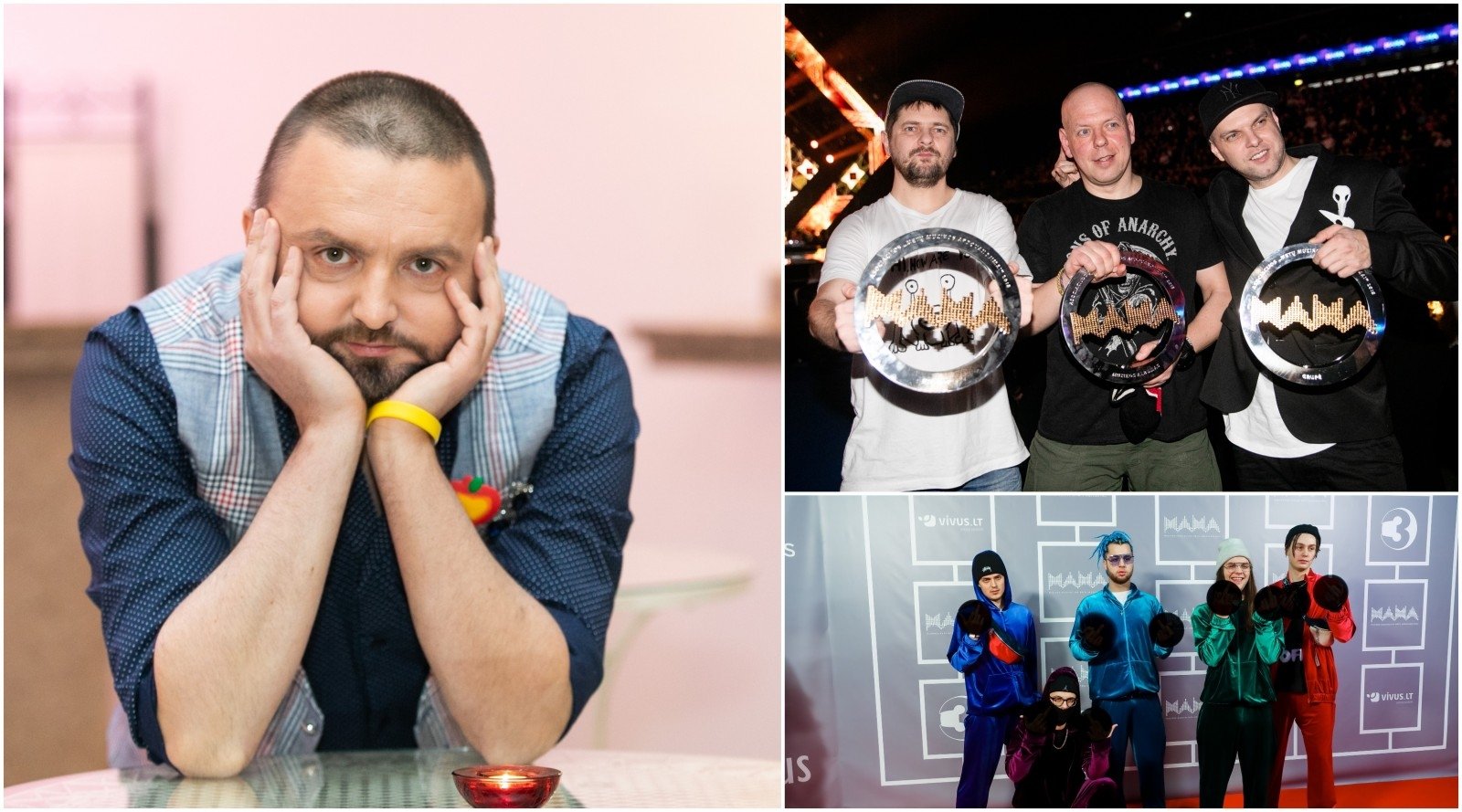 M.A.M.A, Flying Saucer Gang was nominated in two categories – an annual breakthrough and an annual hip hop, but without the titles he was waiting for.
G&G Syndicate has become the "Hip Hop Group of the Year" winner.
True, the group has received more awards and has become one of the prizes this year. Gabriel Liaudanska-Svars with his group members does not hide the joy on the stage: "The Best Repo Group received the Best Repo Group Award."
G&G Sindikika on the stage changed the Flying Saucer Gang, which became the most famous after one of their members met the social network star Carolina Meschino.
Although the categories were nominated, the group was not awarded yet, but the guys won the fan sympathy award. Remigijus Daškevičius, one of the members of the group at the center of Meschin, offered the organizers a prize to make sure that those who were dead would no longer be there.
This announcement became one of the points of origin of the award ceremony. Social networks have been the subject of debate. Some stood up to defend the "old" liberated members of the G&G Sindikat group and said that youth was a thing that was going fast, while others supported the new stage.
"I would like to convey great wishes and great respect to G&G Sindik, and to M.A.M.'s awards, a place for those who deserve it," said Dashkevich.
One of the oldest musicians in Lithuanian music is Stanislav Stavickis-Stan.
Is G&G Sindicat the best hip hop performer in Lithuania?
I think the answer is clear, but first of all, what happened to Mrs. A.Army Dashkevich (of the Flying Saucer Gang Group), came to the syndicate?
I have long waited, I am even afraid that Lithuania will abolish this phenomenon. The new hiphop school has arrived!
Throughout the world, new school representatives have shown their middle finger to the "old" couple of years. What to expect from the new generation. If the reporter's image was brutal in the past, he now talked about street life, criminals, weapons and women – everything is different.
In the eyes of a simple observer, the new generation looks like this: yellow, forced, loud (as if suffering from Tourette syndrome), and chaotic, obedient teenagers.
If you can understand the dictation they have dictated, you will learn that the new players are light drugs, alcohol and women, and more specifically "bitches". They are not the language of speech, letting go. There is eternal intoxication that does not depend on the amount of tetrahydrocannabinol in your blood.
They are soft and smooth beings whose hair is attached to danger, spraying bright colors.
It seems to me that this is the huge proportion of television viewers who first saw the new school representatives in the M.A.
If one of the other viewers decided to look at the works of these artists, it was stunned – "What's with the words? Where does it mean? Can you sing it at all?"
Similar thoughts can really lead to the following lines in your repertoire: "We don't confuse the code with the fantasy / But we mix / Don't think I discover my works on stage, I don't think I don't,".
Or "Jude, Like Kevin Durant / bytes from Atlanta / Studio, …".
Everything seems clear – addicted and sleepy. "As drunk, you're drunk, we can't find a place again at night / Around our fears, songs aren't heard".
And, behold, they were seen on television with the most viewed, so-called prime time. And there would also be a right-hand viewer demanding to ban these "monkeys" and "sperms" if not one question: "And would you be different"?
Which generation in adolescence prayed "Weed of Weed" and did not mix? Who did not demand "long" fall? Is there much more in the 90s?
Here are some quotes from these times: "First Night, Your Vodka Hood (Express)", also: "We are here in her evening, but we thought we were all, nothing else, Head, maybe no thought, Lady, suck (SEL), and this text is good: "Hey big discomfort, he's good for us drug addicts (Junior XXL).
But the most exciting was a Syndicate friend. In 2001, for the first time during the Radiocentro awards, they sang a song with the names of the beasts to a live airline, creating a real scandal: "… I had no idea you gave a shower, I just wanted you …"
My four-year-old Adam, opening the door, says, "I can't open the door." For some time I thought what it meant, but when I was "giggling", I realized it was the text of Free Fing's song.
Where does he know? The spirit of the next generation seems to be in the air.
And, well, after all, if you ask for creative work in today's glorious, you can hear the right flow and the modern sound, and sometimes the good lyrics. They are excellent syllables in both English and Lithuanian. Yes, mean and talk to the ninth metaphor that is alien to this culture, because it is instagram and children.
Until Lithuania and the rocks of the world think peacefully, the hip-hop culture is undoubtedly a modern hand in hand.
Is G&G Sindikatas the best hip hop group in Lithuania?
I am M.A.A. And for me, Syndicate and especially pound texts are the peak of today's poetry. I look forward to their albums, and I'm jealous that I can't and never did, but … I give my voice to the younger generation. 2018 is their year.
Send everyone, complain, go, but don't ask and ask the syndicate and others to leave you behind. Will be back.
Inga Jankauskaitė and Tadas Rimgaila: Young People – a Shortage to Go Fast
"Maybe I shouldn't put my nose where I need it, and maybe I'll be given to the old ones, but … I'm for those young constellations who say aloud that they're not rewarded and it's time for the elders to get out. " Children wash their mouth, greasy hair, put on what they find in a container, first of all respect older people in general, and especially those "old" who have done a lot of years, and also gave you an example, good or bad, absolutely insignificant !
The fact that you have won, you have created a debut word for yourself and wrote another song that you can understand well, but that does not mean that you have already achieved something!
I read your vepezones and you said well, come to the concerts, pay us your wallet! You, Mimeyou, you and the answer are just fun for a few people who come to ask you, or maybe not listen, and just get rid of where you do it! After one day of the song you want to recognize, forget! People who were created just a year ago n!
So continue building, doing and maybe you will appreciate one day! But today, just because you are, no one will give you a prize because you just haven't done anything! I am sorry I have written this post because you and they are very worthy, just for disrespect for others! , "Wrote Rimgaila on social networking.
Back then, actress Inga Jankauskaite immediately reacted to T. Rimgail's statement: "Teenagers are going to be hard and will still understand that any reward is even more hopes and demands for themselves. And it's not a one-off and romantic one. "Wrote Jankauskaite.
Rimgaila has been involved in the discussion with the actress and has confirmed that teenagers who have expressed their opinions strange have long been teenagers. "The youth is so tiny that it is quick to go out," I recalled the words of actor Vytaut Shapranausko once.
In addition, just after the award ceremony, the music leader Free Fing was boldly and without curtains on the social network at the M.M.A. Music Awards on Friday.
According to him, the prizes that were awarded were not worthy of the performers.
"Everyone understands that neither G&G Syndicate is an annual hip hop album, that the annual song is not a remix of Dynor. Over the years, our scenes have changed dramatically, not enough to call on stage and landscape.
Flying Saucer Gang is an annual breakthrough, even lo ****. But it will change when listeners show your stripes, concerts and support. We have not come, we have arrived, and the award of old age praises is ridiculous. There is no essence, no show here, but this year I want to keep young artists in their ears and pockets, then it will be impossible to deny that this wave is influential, and only in this way will the quality of music improve.
The best wishes for the hip-hop group Despotin Fam, the breakthrough Flyer Saucer Gang, the Curly group and the songs that were not nominated for Dynoro, – Free Finga wrote on social networks.
G&G Syndicate members are silent but talked to the manager
The head of G&G Syndicate Justas Čekuolis also spoke about this topic after silence. After contacting DELFI, he assured that there was no need for a big drama in this situation.
"No one is sitting on this spot. Let everyone work continuously and do good deeds. Then these awards come. I didn't mention it. It is a very good desire of young people to leave others. It was in all areas and always, so I don't see anything wrong and wish them good luck not only for years, but for 20 or more years. I want to collect full sales people, publish good albums and have many fans. Everything is in their hands, and no one else will do it, "he said.
A familiar person thought that everything looked different from different perspectives. "I know for myself how creative and nervous it is to create an album. At first it seems that the only job is a lot of work, but later we realize that those who survive, they always do a lot of work and it becomes normal for you.
We are neither offended nor injured. It's fun and looking at it with easy humor. In this case, and in this context, it is nice to exchange such motivating copies. We will not reach the street (laughs) ".
Asking how the members of the group reacted, their leader replied openly that everything was good and nobody announced deep in the heart, and the young people just wanted to achieve their goals.
"There is a huge commission here and many years were nominated, but we didn't get anything. Maybe for many people our group always wins something, but it's not true. It's just a constant and high job. And these young performers do a lot "I think it only takes time, and their time will really be," Chekuolis said, adding that he had been in the gang of the flying field more than once and interested in the new creators, their works – I can only convince G&G Syndicate "Stairs will not play".
Awarding moments:
Event guests in the red carpet:
It is strictly forbidden to use the information published by DELFI on other websites, traditional media or elsewhere, or to distribute our material in any way without the consent, and if consent is given, it is necessary to indicate the source.