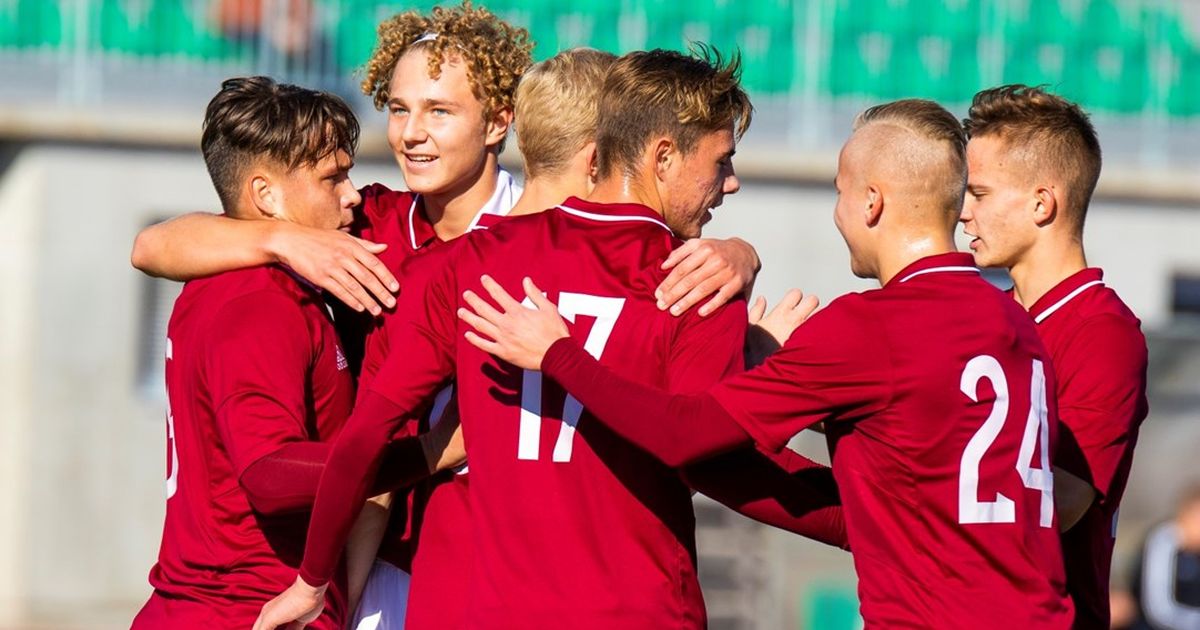 The Latvian team scored 1: 1 (0: 1) with the Russian national team.
Latvia's team lost only goal in the 36th minute when Gamids Agalarov broke out with a precise shot. For a long time the result was unchanged, and the Russians were close to success, but in the second half of the second half of the second half of the second half, Kiršis got out of the Latvian team.
Currently, qualifying Group 11 has one point for all teams, as another part of this sub-group, Cyprus and Montenegro, played non-finals 0: 0 (0: 0) on Tuesday.
The Latvian U-19 youth football team (born in 2000) will qualify for the European Championship qualifying round until the next Monday in Cyprus.
The Latvian team will fight against Montenegro on Friday, and the third match against Cyprus will be held by Latvians next Monday. In the next stage, or the elite, there will be two of the best teams in the subgroup.
Six of the 20 Latvian candidates are in foreign club systems. Goalkeeper Rudolf Oskar Soloh (Nottingham Forest, England), defenseman David Titov (Brentford, England) and Roberts Veip (Sampdoria, Italy), as well as midfielders Bogdan Samoilov (Koln, Germany), are trained in football abroad. , Dmitry Zeelenkov (Empoli, Italy) and Cebrail Makrecki (Leverkusen Bayer, Germany).
In June, the Latvian state triumphed in the Baltic Cup, but in March U-19s won two victories in three qualifiers in this year's European Championship qualifying elite round, but remained in second place and did not enter the final. In the autumn, the team has undergone significant changes, and several guys have won the U-21 national team.
Thus, the U-19 team became the first youth unit from Latvia, which closed the elite qualifying tournament in second place in its group. So high, no youth team ever had.
Latvian U-19 football team qualifier for European Championship Qualification Preliminaries
Goalkeepers: Rudolf Oskar Soloh (Nottingham Forest, England), Frank Davis Orol (RTU / Skonto);
Guards: David Titov ("Brentford", England), Emil Birk, Ilya Korotkov (both "Metta" / LU), Roberts Veips ("Sampdoria", Italy), Arthur Ļotčikovs ("Ventspils"), Kristers Tobers, Robert Krista Jaunarājs -January (both "Liepaja" / "Mogo");
Midwives: Bogdan Samoilov (Koln, Germany), Dmitry Zeinenkov (Empoli, Italy), Rihards Ozolins, Renārs Varslavāns (both Metta / LU), Raivis Kirsys, Maxim Tonyshev (both – RFS), Kriss Anderson (RTU / Skonto Academy), Cebrail McCracky (Leverkusen Bayer 04);
Attackers: Raens Tālbergs (Ventspils), Viktors Ziemelis (Liepaja / Mogo), Kristers Lūsiņš (Valmiera Glass / ViA).
Source link