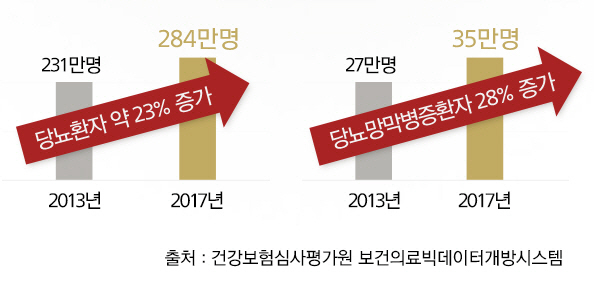 [이데일리 이순용 기자] Today is World Diabetes Day (November 14th). In 1991, it was set up by the World Health Organization (WHO) and the World Diabetes Federation (IDF) in order to raise public awareness and understanding of diabetes. In Korea, the Korean Diabetes Association seeks to improve social understanding of diabetes.
According to the World Diabetes Federation (IDF), diabetes is one of the fastest growing diseases. Every ten seconds there are three patients around the world, and one in ten adults will have diabetes in 2030. As diabetes mellitus increases, diabetes complications also increase. According to national health insurance statistics, of 252,000 diabetic patients in 2015 eye-related complications of the eye (diabetic retinopathy, cataract, etc.), there were 14.6% (356,000) of the Health Insurance Reports and Evaluation Service data, that the rate of diabetic retinopathy (about 28%) was higher in the last 4 years than in patients with diabetes mellitus (about 23%).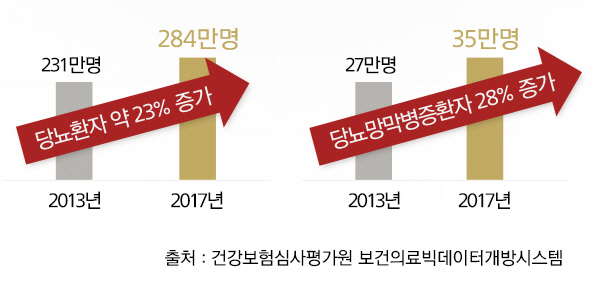 Statistics 1.2013 ~ 2017 Number of patients with diabetes mellitus and diabetic retinopathy
Diabetic retinopathy is a disease that reduces visual acuity due to increased blood glucose levels in the blood vessels of the retina. It is classified as diabetic diabetes retinopathy and proliferative diabetic retinopathy. In the early stages of nonproliferative diabetic retinopathy, structural problems arise due to leakage or occlusion of the retinal duct and visual acuity decreases. If not treated, this leads to proliferative diabetic retinopathy. In this case, the tissue is weak and the newly developed blood vessel is divided, causing bleeding. If it gets into the macula, it causes a decrease in visual acuity. Diabetic retinopathy may temporarily be symptomatic of diabetic retinopathy when blood sugar is not adequately controlled.
According to the Royal Academy of Ophthalmology, patients with diabetes have a 25-fold chance that blindness is in relation to the general population, therefore, in patients with longer diabetes mellitus, a cross-examination should be performed at least once a year. However, in diabetic patients, the prevention and treatment of diabetes complications is still insufficient. In October, the free Korean legislator, Shin Sang-jin, stressed that the Ministry of Health and Welfare should add funds to the National Health Insurance Corporation's Health Check to ascertain that the number of people with diabetes is over 2.5 million compared to only 2%.
According to a survey of 340 diabetic patients at the Nuneone Hospital Retina, only 1 out of 2 diabetics was trained in diabetic complications and only 30.6% of diabetic patients less than 1 year old had diabetes complications. Diabetic patients should be more aware of diabetes complications because early treatment is important before diabetic complications.
"Ak Hyun Sup, director of the Eye Center Hospital, said:" A 1% reduction in glucose hemoglobin reduces the incidence of complications of microvascular disease, such as diabetic retinopathy, by more than 37%. However, since diabetic retinopathy may develop even if blood glucose levels are well controlled, periodic eye examination with a mucus exam is also very important. "" Unfortunately, patients often get into their eyes in the blood, or they come to the ophthalmologist if something is happening but often they do not take into account the importance of vision. Even if there are no deviations in the eyes, adults over the age of 40 have a good eye examination, such as a muds exam once a year. In particular, those who have diabetes or who have a family history of severe liver disease are advised to take a mock exam each year, even if it is difficult to prevent it. "
"At the end of the year, there are many people who want to get a state health insurance health check, diabetes patients after a public health check, and want to have an eye check," he added.
Source link