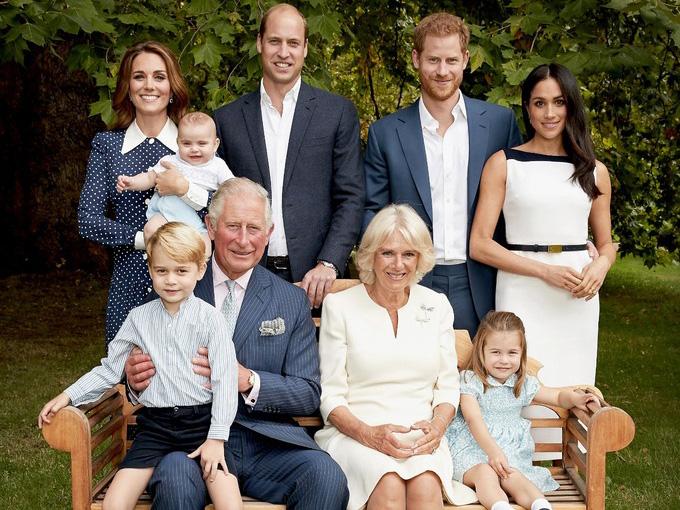 Prince Charles's 70th birthday celebrity has been thrown down by two previously unavailable royal family photos.
The heir to the heir is represented by the neighborhood where his closest family is located, including his wife, children and grandchildren.
Admitted to the house of the London home garden, Clarence House, still depicting the Prince of Wales, who is sitting on the bench with his wife, the Duchess of Cornwall, surrounded by his remaining family, including the Dukes of the Duke and Cambridge, their three children, and the Duke and Duchess of Sussex.
Charles Grandson, Prince George, can see sitting on his knee, while Princess Charlotte sweeps up to Camillai.
Charles's youngest grandchild, Prince Louis, now six months old, belongs to his mother, Kate Middleton, who stands next to Prince William, Prince Harry and Meghan Marklee.
In the second, more candid photo, the whole family is laughing. When Meghan sits on, Camilla opens around the three-year-old Charlotte and points to something, while George's five-year-old is caught by his family members sitting on his grandfather's knee.
Photographs were purchased by royal photographer Chris Jackson, who has previously taken Princess George's fourth birthday and is married to Duchess of Cambridge, Natasha Archer.
Jackson, who did not like why the family laughed, said: "I am delighted to have been asked to take these portraits of the Welsh prince surrounded by his family to celebrate his important 70th birthday.
"It was especially special to capture such an informal and relaxing family portrait after a fun afternoon at Clarence House Gardens."
Charles Charles will celebrate her remarkable birthday banquet, which she visited at Queen at Buckingham Palace with her family, close friends and European royalty.
He also plans to attend a tea party, where he met with 70 other septugues.
Source link