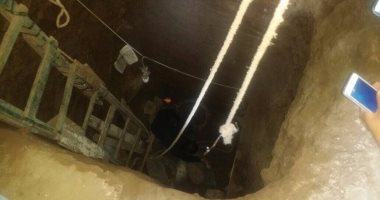 A company specializing in construction and digging, received property that showed the ruin excavations in Sheikh Zaid, preparing for the start of work in the body of the employee who collapsed in the search for antiques.
The company has begun to transfer "iron" staples to the property to ensure its safety so that it does not collapse during the drilling process and to carry out all insurance procedures so that it does not affect the adjacent properties.
Brig-Gen Amr Hafez, Commander of the Commander of the Sheikh Zayed Police Command, received a report that one person was killed when he was murdered at his place of residence.
Respondents went to the scene and conducted an investigation. Samah Badawi, investigating head at the Sheikh Zayed Police Department, discovered that during excavation, the excavation of the property's ruins was demolished, destroying him and his partners.
The detained suspect acknowledged that the car show owner and his deceased friend had been digging under the ruins under their apartment. From excavations, we managed to create a deep pit. As his friend climbed up the pit, a large sand mass collapsed, killing him..
The suspect stated that after he confirmed the death of his friend, he rushed to the Sheikh Zayed police department to report an incident, testifying that the owner of the apartment was lurking for the excavation of antiques.
Source link