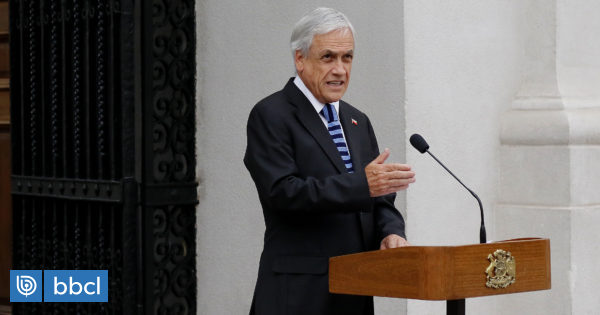 President Sebastien Piener referred to the UN Migration Pact, which reaffirmed this Friday Chile decided not to follow.
From the Palacio de La Moneda, he explained that "this contradicts some of our own principles of our migration policy", and this does not preclude the protection of Chile's legitimate interests.
In detail, he acknowledged three arguments to subscribe.
First, he confirmed that this pact contributes to illegal migration. "It promotes informal work, facilitates the entry of immigrants who are called vulnerable, makes it more difficult to arrest with occasional people and provides access to pensions, in violation of our country's requirements," he said.
He also pointed this out makes 'disperse' the distinction between migrants and refugees; and regularly irregular.
Secondly, he stated that the Marrakesh Pact "introduces" new responsibilities for signatories, for example by revising national policies and promoting new bilateral or regional agreements.
"Determined as a State duty to create conditions for the economic and social development of immigrants who are expelled from a country "he was staying.
He pointed out the third argument limits the sovereign right of each state to decide how to protect their borders and entry conditions.
"Although it is said that it is not binding, it is clear that a serious and responsible state such as Chile accepts this agreement and is committed to its spirit and content"he pointed out.
At the same time, with the indication that the document mentions 86 times the name obligations and 15 obligations, it was pointed out that such agreements have political and legal consequences.
"They are used by international organizations, including courts … to get legal obligations," he said.
"I can not support the text, which, in the light of the above, and after an in-depth analysis, does not, in my view, adversely affect and protect the interests of Chileans, promotes and addresses illegal migration, promotes the promotion of unrecognized rights, imposes new obligations and impedes border protection", he was sentenced.
Answered criticism
After knowing the commitment, he indicated from the opposition that this was a national issue, but Piñera argued that this was not the case, because when they were in opposition, they were never discussed with similar issues.
"They never consulted with us about immigration policy, which meant the arrival of hundreds of thousands of illegal immigrants in Chile"he said.
Of course, he acknowledged that issues of international law were such as the lawsuit in The Hague.
In terms of versatility, he also said that the government believed it, so they are actively involved in all the forums. "It does not mean the obligation to sign each agreement or contract," he concluded.