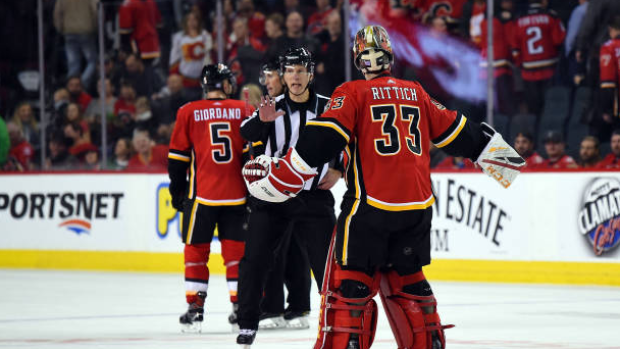 Calgary Flames goalkeeper David Rittich believes that he may have to stay down on the ice to make the goalkeeper's intervention call after he was pressed Jamie Benn before the third night of the Dallas star won the overtime winner.
Benn cut off Rittich to replace the puck in an additional frame and contacted the right foot of the goalkeeper, shifting it from the left. Ben then center poke on Tyler Seguinwho beat Rittich on the glove side.
The game was revised, but the repeated rule of Rittich was given enough time to recover Seguin shot. Rittich broke his stick at the post when the decision was announced.
"He attacked me, so I was slightly fitted, but not 100% ready for anything," Rittich told reporters after a loss of 4-3. "Everyone saw it – I had a bit of time, but not a complete recovery shot.
"Maybe the next time, I'll stand for half an hour."
Rittich, whose record fell to 8-2-1 with overtime, cut off 24 out of 28 shots. The flames play stars 33-28.
"Anytime you go to the review, it's a bit scary, right? You do not know how it will turn out," said Flames head coach Bill Peters. "It could have gotten either way, and you might have agreed with it.
"They said there is plenty of time between contact and rescue ability and re-set shots … This is one that you can discuss all night."
The Flames, now 14-9-2, still sit at the Pacific Division with 30 points, using 25 games this season.
"It's always tough when you lose," said Rittich. "We did some good things, but that's not enough."