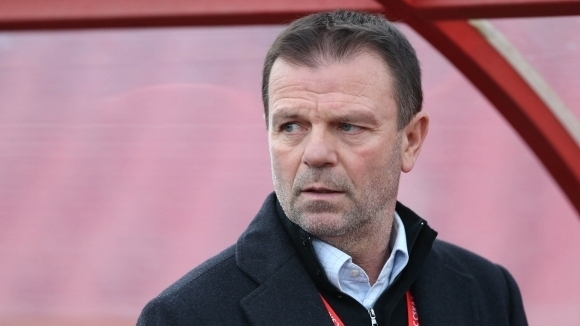 Coach Stoicho Mladenov in Channel 3 acknowledged that he was talking twice about returning to CSKA Sofia. The specialist commented on army processes and money paid for the emblem.
"There were two moments when I was negotiating, but on both of these issues I worked with the contract, and the impossibility is that I have signed the contract and cannot leave without compensation. I say I always market at the word, it may even sound banal, but from at the other end of the world I returned and returned to CSKA, but at that point the situation is that it is one of Gancchev's activities that proves and show his love for CSKA, I have said more than once that this is not money thrown out of the wind or did he sound it because CSKA is the biggest brand, "began Mladenov.
"There are no other Bulgarian brands like CSKA to sell at such prices, and the money he posted to CSKA is first and foremost important that CSKA gets its badge, it is continuity, and secondly, it brings the fans together. because the acquisition of the emblem gives the continuity we are talking about, and thirdly, the CSKA is a very high, high price, I am sure that good management, good transfer policy, money will return tenfold, "mentor added.
"These are very personal things, I do not agree with the public as much as anyone thinks it is necessary, they are deservedly earned, and everyone has the right to use them in a way that is appropriate for them. with our team we worked for 10 months free of charge, or do you think that at this point someone asked me how I was, or when I did the heart of a CSKA for my operation, so I do not want to comment on the questions ".
"Undoubtedly, I said, and there are no two points of view when purchasing an emblem, this continuity is realized and is now CSKA".
"We are following the process that is right and what is wrong, each one of his prizes appreciates what is right and what is wrong, and when they have decided to continue in the club, they are right, yes, if I am CSKA, I would have worked in his own way to raise my position as senior coach and sports and technical part, and no one should disassemble it at the same time as I never participated in anyone. "I have a responsibility," said Mladenov.
// FB.init({appId: '176964795710805', status: true, cookie: true, xfbml : true}); window.fbAsyncInit = function() { FB.init({ appId : '176964795710805', oauth : true, cookie : true, status : true, xfbml : true }); }; function fb_login(){ FB.login(function(response) {
if (response.authResponse) {
var token=response.authResponse.accessToken var t=document.getElementById('fbaccess_token'); t.value=response.authResponse.accessToken; var f=document.getElementById('fbform'); f.submit(); return; } else { } }, { scope: 'email' }); };
// };
// Load the SDK asynchronously /* (function(d){ var js, id = 'facebook-jssdk', ref = d.getElementsByTagName('script')[0]; if (d.getElementById(id)) {return;} js = d.createElement('script'); js.id = id; js.async = true; js.src = "http://connect.facebook.net/bg_BG/all.js"; ref.parentNode.insertBefore(js, ref); }(document)); */
(function(d, s, id) { var js, fjs = d.getElementsByTagName(s)[0]; if (d.getElementById(id)) return; js = d.createElement(s); js.id = id; js.src = "//connect.facebook.net/en_GB/sdk.js#xfbml=1&version=v2.6&appId=176964795710805"; fjs.parentNode.insertBefore(js, fjs); }(document, 'script', 'facebook-jssdk'));
function switch_theme_cookies() { var val = "; " + document.cookie; var parts = val.split("theme="); var themecookie=''; if (parts.length == 2) { themecookie=parts.pop().split(";").shift(); } themecookie=1-themecookie; document.cookie='theme='+themecookie+';expires=Thu, 01 Jan 2020 00:00:01 GMT;path=/'; location.reload(true); return ; }