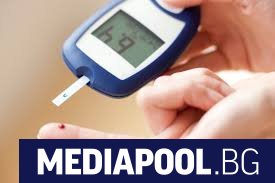 Patients' organizations were announced before the World AIDS Day on November 14 to improve access to diagnose and treat diabetes and its complications.
According to the official statistics of the Diabetes Registry, the population of Bulgaria with diabetes is over 460 thousand, and according to the World Atlas of Diabetes, the actual number of patients with diabetes in Bulgaria is 520 thousand. There are also a large number of ill-diagnosed patients and accordingly they are not treated and do not control the disease.
The Diabetic and Pre-Abbot Association, the Association of Insulin Pumps, the Association of Type 2 diabetes and patient organizations "with you" indicate that there are no comprehensive programs in Bulgaria to address the problems associated with the lack of annual screening programs covering all risk groups.
Lack of specialists in small populated areas and in difficult reachable regions, lack of sufficient resources for prevention is also a problem for the proper care of diabetic patients. This is the reason for urgent treatment and the cause of diabetes complications. It contributes to the extra budgetary burden and the need to apply costly treatment to treat diabetes and its complications, "said patient organizations.
Access to high-quality medical care in some areas of the country is enormous and there is a lack of training programs for all diagnosed patients to improve glucose and glucose control.
Only 73,000 diabetics receive bandwidth for readers who are reimbursed by NHIF. In other cases, the control is weak or completely missing. In addition, Bulgaria is one of the few EU countries that does not fully reimburse sensors and consumables. Sensors are the most advanced method of controlling diabetes in both children, pregnant women and severe adult patients as well as other patients indicated by patient organizations.
"Diabetic foot-prevention in our country is rare and exceptional. In patients with diabetic polynucleotide, treatment is often delayed when wounds develop in 3-5 stages of the disease. The complication of this diabetes is diagnosed with at least 15,000 Bulgarian diabetics. However, it is considered that the number of patients who suffering from a diabetic foot injury is about 5 percent of all diabetics, which means that about 26,000 people get ulcers,, alert patient organizations.
Due to sugar beet, diabetes affects about 140 people annually. Patients show diabetic polyneuropathy in the first and second stages, but many diabetics do not buy it because they can not afford it. In 3-5 stages, diabetic patients suffer from wounds and ulcers that are difficult and expensive to treat, causing tremendous pain, motility problems, workmanship, amputations.
Due to the loss of susceptibility in patients with diabetic polyneuropathy, foot injuries can remain unnoticed and cause ulcers, severe infections and amputations later. In order to ensure more timely diagnosis and pathogenetic treatment of diabetic polyneuropathy, including in patients with symptomatic loss and loss of sensation, clinics need several diagnostic and diagnostic devices, "the report said.
Organizations insist that treatment for all diabetics is monitored by an endocrinologist, regardless of whether it has indications.
"At present, only the endocrinologist's ambulance is only for diabetics with severe complications, while others see it as a GP. We believe that a much more successful model is an endocrinologist, it will benefit both patients and reduce the cost of treatment", said organizations.
Was this article helpful to you?
We will be glad if you support Mediapool.bg so that you can continue to rely on independent, professional and honest information and analytical media.
Support us
Subscribe to the most important news, analyzes and comments on the day's events. A newsletter is sent to your email address every day at. 18:00
Subscription