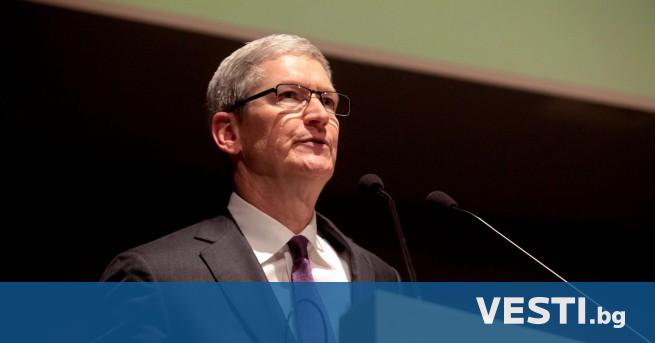 Tim Cook, CEO of Apple
Source:
BGNES
Although not clear at its disposal, Apple is in crisis. This is quite serious. The company is experiencing the worst month in terms of stock market behavior for 10 years, BusinessInsider said. The company had some problems that turned out to be too many investors.
Apple shrinks iPhone production because of little interest
Samsung has unveiled its prefabricated smartphone
Since November 1, Apple's shares have fallen by 21%. It costs about $ 200 billion from the company's market capitalization.
Samsung is working on six phones
Why are people no longer able to buy many new smartphones
It all began after Apple announced its financial results in the third quarter of the year at the end of October. They were not bad, but they were not so expected. Analysts and shareholders do not like the fact that Apple sold fewer iPhone than expected.
On November 1, Apple complicated the situation by announcing that it was no longer aware how many items had been sold by the iPhone. The company claims that it does not reflect the company's "healthiness" and, moreover, is becoming more and more involved with additional services.
Another reason is that the smartphone market is in a contraction period. According to preliminary data from IDC analysts, the global smartphone market in the third quarter has decreased by 6% compared to the same period last year. This is also the fourth quarter of the fall.
Of course, it also affects the iPhone. Apple was trying to respond to this problem by managing the cheaper iPhone XR. However, the $ 750 price is still far from being available to most consumers. The new iPhone XS driver is also not getting enough interest and even reports that Apple has reduced orders for the production of both models. And this is another major blow to share prices as well.
Huawei has replaced Apple and is the second smartphone
There is growing interest in cheap smartphones
The general economic situation, especially in emerging markets, is also not particularly booming. Companies like Apple, for the time being, rely on developing countries to increase supply. In other countries, the market is already depressed and saturated, and it is difficult to expect tangible growth.
And the competition is not sleeping. Huawei has recorded a very strong year, attacking the market with a number of new smartphones that were of great interest. These models are more complex not only in developed markets, but also in Apple's most important areas. Among them is China, where the company relies heavily on growth, but competition and care for more serious national regulations and commercial battles do not promote customer loyalty and require them to come up with alternative proposals.
Smartphone Announcements – A Nightmare for a New User
5 things from smartphones that will also benefit from laptops
However, this is not all black. IDC expects the smartphone market to recover in 2019. Even if growth is small, it will be a pleasure for all manufacturers, including Apple. The company can succeed and bring consumer interest to the next models, as long as they have something new. Of course, 2019 will not be easy, especially with the planned phased introduction of the first pre-empted smartphone.
Follow us everywhere and at any time with the mobile Vesti.bg application. You can download it from Google Play and the AppStore.
Follow our Instagram page to get more interesting news.