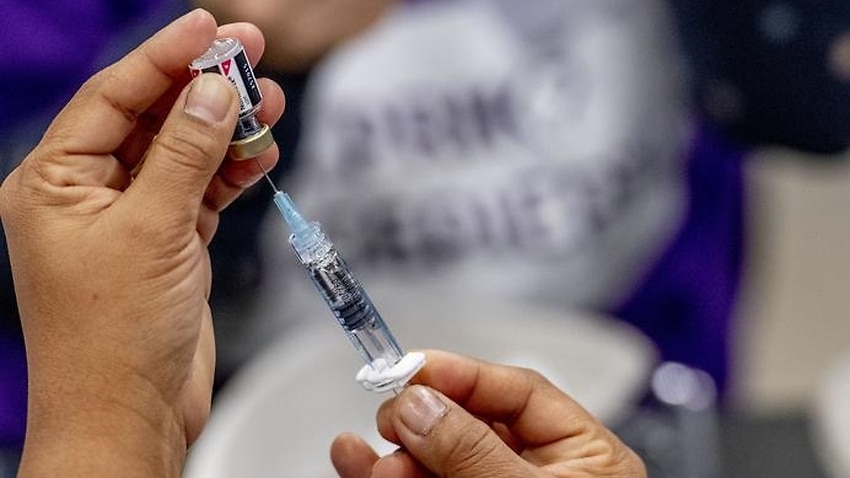 [ad_1]
"Should we visit a doctor?" It's a dilemma that every parent occasionally grabs when their child has a fever and seems sleepy.
Elisha Robinson played with the same idea when her seven-month-old child, Lilliana, received a hot and soft family holiday in Thailand in November 2018.
When Lily's nails and lips began to turn blue and her organs did it under her thin, white skin, Elisha knew she needed help.
"I could tell you that she doesn't get enough oxygen through her body. She was basically in shock and her temperature was so high and we couldn't bring it. She started cramping," says Elisha.
When the local ambulance staff couldn't understand their desperate English, Elisha collapsed on the street screaming. "I didn't know what was going on, I just wanted someone to help me."
The family rushed to Lily on a hospital in Phuket, where she was fed a drop of antibiotic while her small body flourished and a purple rash developed. After a couple of days, the family was reported to have meningococcal disease – the strain B – by poisoning their daughter's body.
After 10 days in Phuket, Lilli was medevaced on hospital in Bangkok.
For weeks, Eliza, 23 and her husband Jai, 24 from the Gold Coast, had no idea whether their little girl would have permanent damage to her organs or brain, or she would lose her arms or legs that had turned black.
Lily's heartbeat rose sharply to the point where cardiac arrest was a real threat, pneumonia began to demand its left lung, and her veins began to collapse, which meant that her drip line had to be fed with her circus.
"Doctors told us that she has a 30% chance of survival," says Elisha. "We lived in a nightmare."
Fortunately, Lilli improved thanks to the plasma and antibiotics that were inserted into the small body from 12 different bags. She returned to Australia about three weeks later, but continued to exist in a medical circus with feed tubes, pressure clothing, crushed stone, surgery and skin slips.
For up to 10 days of incubation, Elisha says she has no idea where Lilli raised the disease, but now her family understands how fast and serious meningococci is, they want to raise awareness and encourage parents to vaccinate their children against children. disease.
Meningococcal is a blood and / or membrane infection that connects the spinal cord. It is rare, and while most people survive, about one in ten of those who have suffered may die and one in five may suffer serious long-term disabilities, including brain damage, deafness, scarring or limb loss due to inflammation. blood vessels that can reduce blood supply.
The disease spreads through close contact, such as cough or kiss, which seems to make children and babies and then teenagers most likely to get sick.
Despite its severity, most Australian children may not be fully protected. This is partly because there are different vaccines for different strains, and not everyone is publicly funded.
Although meningococcal vaccine C strain has been in the National Immunization Program (NIP) since 2003 (and has been very effective in reducing C strain in Australia), the combination of A, C, W, Y strains was just a meningococcal vaccine. 2018
It is given to infants within 12 months and will soon be given to adolescents in schools. This means that many children today are protected only against the C strain.
A separate B vaccine, which devastated the child's Lilli body, is only available in Australia with a private recipe (except for South Australia, where it is publicly funded). It is still very expensive – about $ 135 per dose, and two or three doses are needed.
It is still unclear whether other countries will finance B meningococcal B vaccine and whether the federal government will approve it in the NIP. Immunology experts have been under pressure for a long time.
Professor Terry Nolan, Head of the Melbourne School of Public Health at the University of Melbourne and Head of the Vaccine Immunization Research Group (VIRGO) at the Murdoch Children's Research Institute points to the UK where vaccine B has been publicly funded since 2017 and where there has already been a significant reduction in the disease.
"The fact that we have the B vaccine and we know it works, and the fact that the Australian government does not finance it is unclear and cruel," he says.
As W, Y and B strains grow, Prof Nolan encourages parents to give their children a combination vaccine, if it has not already been, and also to take the vaccine against strain B.
"For a child, the lifetime consequences of losing limb or brain damage compared to the cost of obtaining a vaccine are negligible. There is no doubt that if people do not get this vaccination for their children, some of them will be getting it and some of them will die in adolescence." "
Lilli, in some way, is happy. Now, at the age of 10 months, her brain remains intact and her organs are healthy.
But she has many scars with her legs and arms, and she has to deal with surgery and skin transplants and painful physiotherapy.
Her parents, Elisha and Jai, but grateful to have kept both legs, remain unclear as the plant on the right leg of the bone.
Meanwhile, emotional scars can never heal.
"What I've seen my daughter going through has become my mother to testify that my child is suffering as much as a little child," says Elisha.
"I had no idea that I could vaccinate against it before she was 12 months old, I didn't know how much the disease strain was.
"Nobody told me about meningococcus."
[ad_2]
Source link