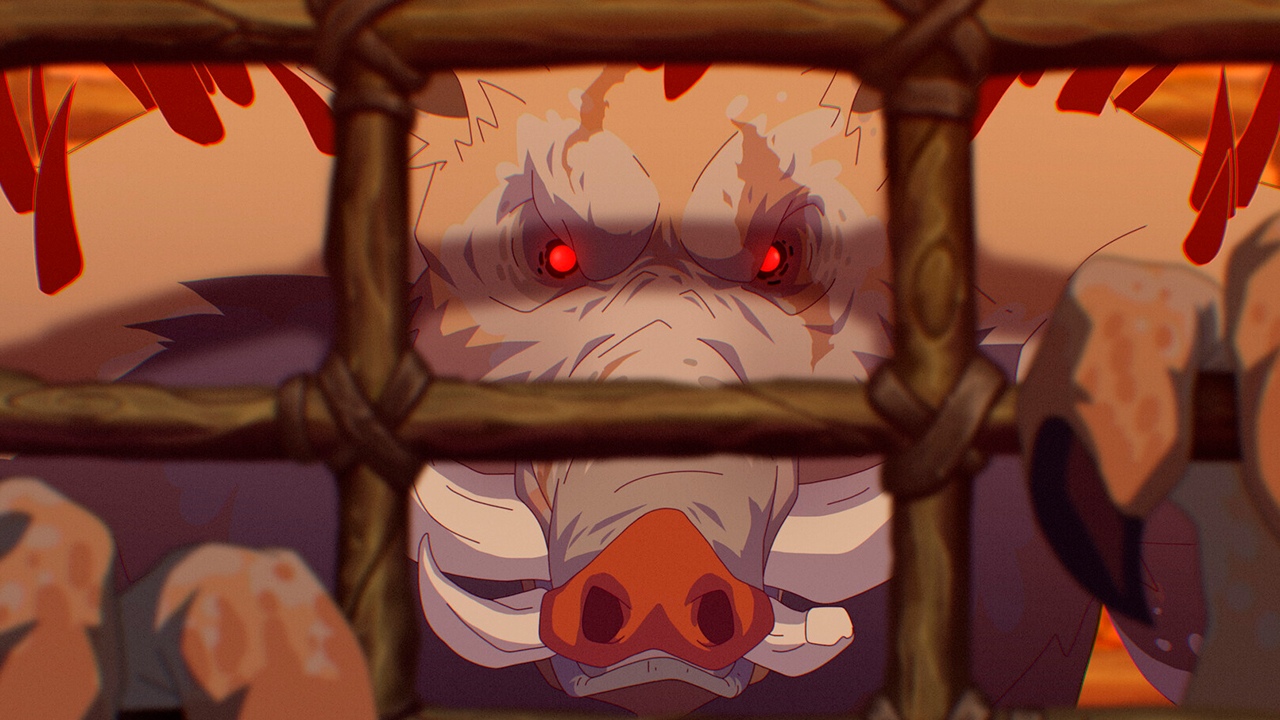 Un artista resume su experiencia en el juego mediante una serie de ilustraciones.
And jugador de world of warcraft classic ha puesto en accin sus habilidades como ilustrador y ha decidido realizar una crnica de su viaje pico en este ttulo de blizzard mediante una serie de ilustraciones dedicadas a los momentos cumbre de su historia.
Vlad "Valdihr" The title of Harabagiu ha comenzado a publicar las serie de ilustraciones The Classic Journey que captura los moments en los que with personaje de Wow Classic logra subir de nivel. Cada imagen est acompaada de una pequea descripcin que sirve para crear una narrativa coherente de su experiencia de juego.
Lo que comenz como una serie de fanart ha resultado ser una curiosa manera de perpetuar with historia fuera del juego, que prximamente se and ampligdo segn Valdihr alcance nuevas met dentro de la trama de Wow Classic. Por su parte, World of Warcraft sigue celebrando su xito, que se ha traducido en un enorme aumento sus ingresos en suscripciones.
Other sobre: WoW, Wow classic, Blizzard, Fanart y Fan art.
var adUnits = [{'bids': [{'bidder': 'appnexus', 'params': {'placementId': '15051556', 'reserve': 0.5}}, {'bidder': 'rubicon', 'params': {'accountId': '11188', 'floor': 0.5, 'siteId': '240426', 'zoneId': '1205974'}}, {'bidder': 'criteo', 'params': {'zoneId': '1388788'}}, {'bidder': 'smartadserver', 'params': {'bidfloor': 0.5, 'domain': '//prg.smartadserver.com', 'formatId': '73987', 'pageId': '1045638', 'siteId': '285283'}}, {'bidder': 'ix', 'params': {'siteId': '345900', 'size': [970, 250]}}, {'bidder': 'ix', 'params': {'siteId': '345900', 'size': [980, 90]}}, {'bidder': 'ix', 'params': {'siteId': '345900', 'size': [970, 90]}}], 'code': 'dfp-masthead', 'mediaTypes': {'banner': {'sizes': [[970, 250], [980, 90], [970, 90]]}}}, {'bids': [{'bidder': 'appnexus', 'params': {'placementId': '15051576', 'reserve': 0.5}}, {'bidder': 'rubicon', 'params': {'accountId': '11188', 'floor': 0.5, 'siteId': '240426', 'zoneId': '1205976'}}, {'bidder': 'criteo', 'params': {'zoneId': '1388792'}}, {'bidder': 'smartadserver', 'params': {'bidfloor': 0.5, 'domain': '//prg.smartadserver.com', 'formatId': '73988', 'pageId': '1045638', 'siteId': '285283'}}, {'bidder': 'ix', 'params': {'siteId': '345901', 'size': [300, 600]}}, {'bidder': 'ix', 'params': {'siteId': '345901', 'size': [300, 250]}}, {'bidder': 'ix', 'params': {'siteId': '345901', 'size': [300, 300]}}, {'bidder': 'ix', 'params': {'siteId': '345901', 'size': [300, 100]}}], 'code': 'dfp-atf', 'mediaTypes': {'banner': {'sizes': [[300, 600], [300, 250], [300, 300], [300, 100]]}}}, {'bids': [{'bidder': 'appnexus', 'params': {'placementId': '15051597', 'reserve': 0.4}}, {'bidder': 'rubicon', 'params': {'accountId': '11188', 'floor': 0.4, 'siteId': '240426', 'zoneId': '1205978'}}, {'bidder': 'criteo', 'params': {'zoneId': '1388791'}}, {'bidder': 'smartadserver', 'params': {'bidfloor': 0.4, 'domain': '//prg.smartadserver.com', 'formatId': '73989', 'pageId': '1045638', 'siteId': '285283'}}, {'bidder': 'ix', 'params': {'siteId': '345902', 'size': [300, 600]}}, {'bidder': 'ix', 'params': {'siteId': '345902', 'size': [300, 250]}}, {'bidder': 'ix', 'params': {'siteId': '345902', 'size': [300, 300]}}, {'bidder': 'ix', 'params': {'siteId': '345902', 'size': [300, 100]}}], 'code': 'dfp-mtf', 'mediaTypes': {'banner': {'sizes': [[300, 600], [300, 250], [300, 300], [300, 100]]}}}, {'bids': [{'bidder': 'appnexus', 'params': {'placementId': '15051735', 'reserve': 0.3}}, {'bidder': 'rubicon', 'params': {'accountId': '11188', 'floor': 0.3, 'siteId': '240426', 'zoneId': '1206008'}}, {'bidder': 'criteo', 'params': {'zoneId': '1388790'}}, {'bidder': 'smartadserver', 'params': {'bidfloor': 0.3, 'domain': '//prg.smartadserver.com', 'formatId': '73990', 'pageId': '1045638', 'siteId': '285283'}}, {'bidder': 'ix', 'params': {'siteId': '345903', 'size': [300, 600]}}, {'bidder': 'ix', 'params': {'siteId': '345903', 'size': [300, 250]}}, {'bidder': 'ix', 'params': {'siteId': '345903', 'size': [300, 300]}}, {'bidder': 'ix', 'params': {'siteId': '345903', 'size': [300, 100]}}], 'code': 'dfp-btf', 'mediaTypes': {'banner': {'sizes': [[300, 600], [300, 250], [300, 300], [300, 100]]}}}, {'bids': [{'bidder': 'appnexus', 'params': {'placementId': '15051756', 'reserve': 0.2}}, {'bidder': 'rubicon', 'params': {'accountId': '11188', 'floor': 0.2, 'siteId': '240426', 'zoneId': '1206014'}}, {'bidder': 'criteo', 'params': {'zoneId': '1388796'}}, {'bidder': 'smartadserver', 'params': {'bidfloor': 0.2, 'domain': '//prg.smartadserver.com', 'formatId': '75104', 'pageId': '1045638', 'siteId': '285283'}}, {'bidder': 'ix', 'params': {'siteId': '345904', 'size': [980, 90]}}, {'bidder': 'ix', 'params': {'siteId': '345904', 'size': [970, 90]}}, {'bidder': 'ix', 'params': {'siteId': '345904', 'size': [728, 90]}}], 'code': 'dfp-footer', 'mediaTypes': {'banner': {'sizes': [[980, 90], [970, 90], [728, 90]]}}}] var PREBID_TIMEOUT = 2000; var pbjs = pbjs || {}; pbjs.que = pbjs.que || [];
pbjs.bidderSettings = { rubicon: { bidCpmAdjustment : function(bidCpm) { return 0.82 * bidCpm; } }, aol: { bidCpmAdjustment : function(bidCpm) { return 0.80 * bidCpm; } }, smartadserver: { bidCpmAdjustment : function(bidCpm) { return 0.85 * bidCpm; } } };
pbjs.que.push(function() { pbjs.setConfig({ priceGranularity: 'dense' }); });
// amazon !function(a9,a,p,s,t,A,g){if(a[a9])return;function q(c,r){a[a9]._Q.push([c,r])}a[a9]={init:function(){q('i',arguments)},fetchBids:function(){q('f',arguments)},setDisplayBids:function(){},targetingKeys:function(){return[]},_Q:[]};A=p.createElement(s);A.async=!0;A.src=t;g=p.getElementsByTagName(s)[0];g.parentNode.insertBefore(A,g)}('apstag',window,document,'script','//c.amazon-adsystem.com/aax2/apstag.js');
// initialize apstag and have apstag set bids on the googletag slots when they are returned to the page apstag.init({ pubID: '3500', adServer: 'googletag', bidTimeout: 2e3 });
// request the bids for the four googletag slots var apstagSlots = [ { slotID: 'dfp-masthead', slotName: '/241667871/3DJuegos/homepage/news', sizes: [[1,1], [728,90], [1008,350], [970,250], [980,250], [980,90], [2,1]] },{ slotID: 'dfp-atf', slotName: '/241667871/3DJuegos/homepage/news', sizes: [[300,250], [300,600]] },{ slotID: 'dfp-mtf', slotName: '/241667871/3DJuegos/homepage/news', sizes: [[300,250], [300,600]] },{ slotID: 'dfp-btf', slotName: '/241667871/3DJuegos/homepage/news', sizes: [[300,250], [300,600]] },{ slotID: 'dfp-footer', slotName: '/241667871/3DJuegos/homepage/news', sizes: [[980,90], [970,90], [728,90]] } ];
var bidders = ['a9', 'prebid']; var requestManager = { adserverRequestSent: false, }; bidders.forEach(function(bidder) { requestManager[bidder] = false; }) function _getGPTSlots(apstagSlots) { var slotIDs = apstagSlots.map(function(slot) { return slot.slotID; }); return googletag.pubads().getSlots().filter(function(slot) { return slotIDs.indexOf(slot.getSlotElementId()) > -1; }); } function allBiddersBack() { var allBiddersBack = bidders .map(function(bidder) { return requestManager[bidder]; }) .filter(Boolean) .length === bidders.length; return allBiddersBack; } function headerBidderBack(bidder) { if (requestManager.adserverRequestSent === true) { return; } if (bidder === 'a9') { requestManager.a9 = true; } else if (bidder === 'prebid') { requestManager.prebid = true; } if (allBiddersBack()) { sendAdserverRequest(); } } function sendAdserverRequest() { if (requestManager.adserverRequestSent === true) { return; } requestManager.adserverRequestSent = true; pbjs.adserverRequestSent = true; requestManager.sendAdserverRequest = true; googletag.cmd.push(function() { apstag.setDisplayBids(); pbjs.setTargetingForGPTAsync(); googletag.pubads().refresh(); }); } function requestBids(apstagSlots, adUnits, bidTimeout) { apstag.fetchBids({ slots: apstagSlots, timeout: bidTimeout }, function(bids) { headerBidderBack('a9'); });
pbjs.que.push(function() { pbjs.addAdUnits(adUnits); pbjs.requestBids({ bidsBackHandler: function (bidResponses) { headerBidderBack('prebid'); } }); });
} requestBids(apstagSlots, adUnits, PREBID_TIMEOUT) window.setTimeout(function() { sendAdserverRequest(); }, PREBID_TIMEOUT);
var nugg4webedia=''; var nuggrid = encodeURIComponent(top.location.href); var nuggn = 2069349029; var nuggsid = 919551733; var nuggsub ='//webedia-es'; var nuggscr = document.createElement('script');nuggscr.type = 'text/javascript'; nuggscr.src = nuggsub + '.nuggad.net/rc?nuggn=' + nuggn + '&nuggsid=' + nuggsid + '&nuggrid=' + nuggrid; var n = document.getElementsByTagName('script')[0]; n.parentNode.insertBefore(nuggscr, n);
googletag.cmd.push(function() { var g = '/241667871/3DJuegos/homepage/news'; googletag.pubads().disableInitialLoad(); googletag.defineSlot(g, [[1,1], [728,90], [1008,350], [970,250], [980,250], [980,90], [2,1]], 'dfp-masthead').setTargeting('Pos', ['top']).addService(googletag.pubads());// masthead googletag.defineSlot(g, [[300,250], [300,600]], 'dfp-atf').setTargeting('Pos', ['1']).addService(googletag.pubads()); // mpu atf googletag.defineSlot(g, [[300,250], [300,600]], 'dfp-mtf').setTargeting('Pos', ['2']).addService(googletag.pubads()); // mpu mtf googletag.defineSlot(g, [[300,250], [300,600]], 'dfp-btf').setTargeting('Pos', ['3']).addService(googletag.pubads()); // mpu btf googletag.defineSlot(g, [[980,90], [970,90], [728,90]], 'dfp-footer').setTargeting('Pos', ['footer']).addService(googletag.pubads()); // masthead_footer googletag.defineSlot(g, [[1,1]], 'dfp-thin').setTargeting('Pos', ['thin']).addService(googletag.pubads()); // thin_Banner[624,78] googletag.defineSlot(g, [[1,1]], 'dfp-inread').setTargeting('Pos', ['inread']).addService(googletag.pubads()); // inread googletag.defineSlot(g, [[1,1]], 'dfp-interstitial').setTargeting('Pos', ['interstitial']).addService(googletag.pubads()); // interstitial googletag.defineSlot(g, [[1,1]], 'dfp-oop').setTargeting('Pos', ['oop']).addService(googletag.pubads()); // out_of_page googletag.pubads().enableSingleRequest(); googletag.pubads().setTargeting("console_name", ["pc"]).setTargeting("publisher", ["blizzard"]).setTargeting("genre", ["rol","multijugador-online-masivo"]).setTargeting('game', ["world-of-warcraft-classic"]).setTargeting('url_sha1', 'e567165fbfbf4a87d65e58a77fcd9aa24506439a');
if (Krux.user) googletag.pubads().setTargeting("kuid", Krux.user).setTargeting("ksg", Krux.segments);
googletag.enableServices();
if (typeof NUGGjson === "object") { for (var nuggkey in NUGGjson) { googletag.pubads().setTargeting(nuggkey, NUGGjson[nuggkey]); } }
});
!function(f,b,e,v,n,t,s) {if(f.fbq)return;n=f.fbq=function(){n.callMethod?n.callMethod.apply(n,arguments):n.queue.push(arguments)}; if(!f._fbq)f._fbq=n;n.push=n;n.loaded=!0;n.version='2.0'; n.queue=[];t=b.createElement(e);t.async=!0; t.src=v;s=b.getElementsByTagName(e)[0];s.parentNode.insertBefore(t,s)}(window,document,'script','https://connect.facebook.net/en_US/fbevents.js'); fbq('init','1856413241239828'); fbq('track','PageView');