[ad_1]
In addition to the outstanding features that are beyond the road, Ram TRX is an amazing performer on the road. Did you know that Helltruck is a tenth slower to 60 miles per hour than the Porsche 718 Cayman S?
According to Rama, it takes 12.9 seconds for the TRX to cross the quarter-mile finish line from a standstill. The question is, how can a V8 engine compressor be sold against a more specialized vehicle?
Enter the adjacent Can-Am Maverick X3 Turbo RR, which weighs much less and offers more suspension movement than the segment's most popular pickup. The quick bar compared the two on black and dirt with amazing results and an alarm: Maverick became the winner.
On the paved road, Ram launched at 60 mph in 4.78 and 4.73 seconds, respectively, while Can-Am could not do better than 5.52 and 4.94 seconds. At 440 yards, TRX won one win, while Maverick was the first to cross the finish line just inches in the second attempt.
These results are pretty much reflected on the dirt. For the first time, Can-Am crosses the line by quite a significant margin, but the 702-horsepower pickup on the second ride retaliated only with its nose. Speaking of the final test, Andre Smirnov of The Fast Lane decided to lift these bad boys against each other on a dirt track that supports the much lighter Maverick X3 RR.
As you might expect, the Can-Am did the lap much faster than a half-ton truck, thanks to greater agility and no less than 22 inches compared to 14-inch rear-wheel drive. Despite the segment's leading performance, the 6.2-liter blown TRX couldn't do better in 49.83 seconds compared to the 45.03-second Maverick with a three-cylinder Rotax turbocharged engine.
In this note, which of these two completely different vehicles would you choose for a weekend away from the urban jungle? If you ask me, I couldn't resist the temptation to put a filled HEMI out of the way in Baja Mode.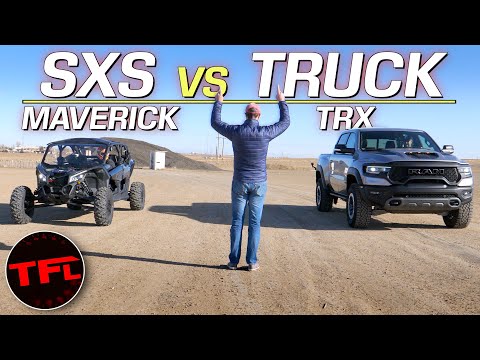 [ad_2]
Source link